Posted by Br Gary Wilson FSC on 26 February 2021
Anna Zsigovits-Mace, Director of Religious Studies reported from New Plymouth , N.Z. that "Wednesday 10th February 2021 was a very auspicious day for Francis Douglas Memorial College. On this day, we dedicated ourselves to the new school year. As always, we acknowledged and blessed our Year 13 cohort as the big brothers of the school. We also presented our Year 13 Leadership Team with their badges, but this year we had the pleasure of blessing our new Tumuaki.
"The blessing was made even more special with the members of Mr. Stuck's family surrounding him, as they will tautoko him in this new role. (After) a blessing from Fr Vui Hoang and the whole school community, Sir Br Pat Lynch then welcomed Tim into his role on behalf of the De La Salle Brothers. After the homily our Student Leaders were presented with their badges before our Lasallian Captain, Jackson Powell, spoke to the school".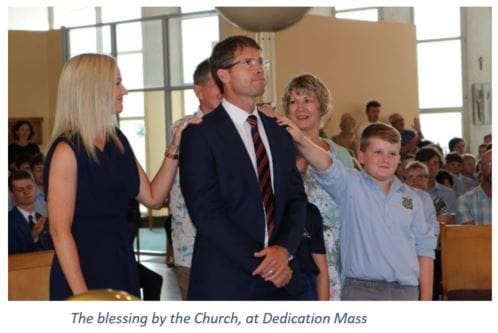 The new Principal, Mr. Tim Stuck comes from sterling Taranaki stock. His father, his brothers and he are all Ex-Students of the College; his son is following the tradition. Having a degree in Sports Science, he was approached to teach Physical Education and Health at Francis Douglas, while gaining post-graduate qualifications in teaching. A wider view of life was acquired during a three-year teaching stint in Edinburgh and the Scottish Borders, as well as more recently completing a Master's in Lasallian Leadership at St. Mary's Minnesota, USA.
For Tim, there is an everyday enjoyment in teaching; education is-
enabling others to reach their full potential. Knowing them as individual personsRelationships have always been my focus in education.
Service, empowerment and building community are core component of a school leader for him. "To provide a climate that enables leadership, direction and co-ordination within the school. Clear vision of where we want to go as a community. Making sure we have effective educational programmes to promote effective teaching and learning. Of course, this requires us to be 'e waka eke noa', that is, all in this together".
What is the new Principal's vision, in terms of relationships? It includes the provision for every student to excel and reach his potential. The primary goal for this well-admired Taranaki school is to produce young men "who careare kind (that) add value to society -men of character". The entrance sign - 'Enter to learn, leave to serve'-sets the scene about who Francis Douglas people are, and what they stand for.
Another of Tim's goals is to create greater connections with Old Boys, as a College of sixty plus years. He sees that the College is building on its history: Francis Douglas is a "meaningful place, not just for the elite, but, more importantly, for the 'ordinary boy'", a place where the Lasallian ethos lives "extensive brotherhood". The new Principal is proud of that learning to serve and being brothers to each other.
A theme for this year is the Lasallian principle of 'Quality Education', which each engages in, and which one is accountable for in one's own sphere. This means maintaining high standards. Time will also be set aside to keep up his love of rugby and surfing.
"PRACTISE GRATITUDE. BE EMPATHETIC"- from a School Captain
Author: Jackson Powell, Lasallian Captain, Francis Douglas Memorial College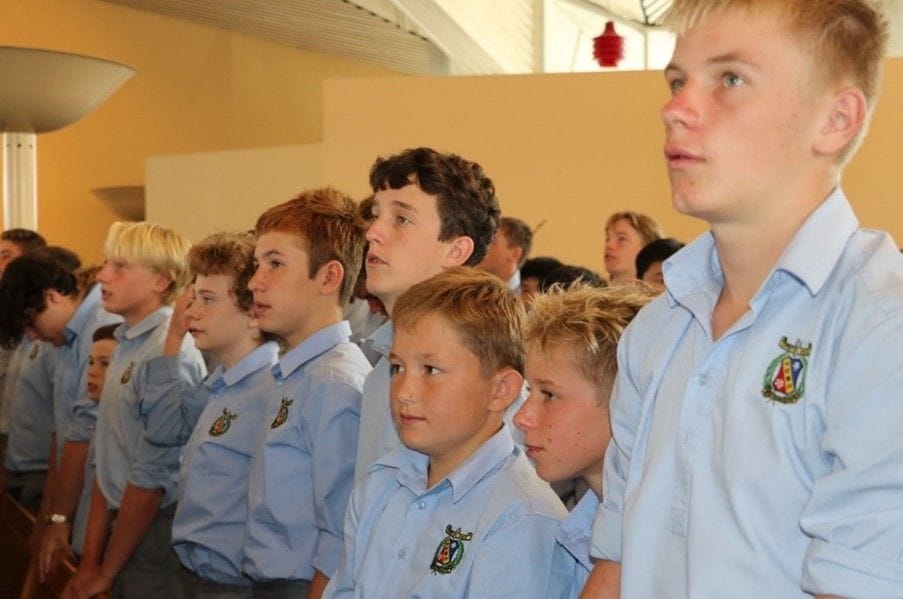 "I have the honour of being your Lasallian Youth Captain this year. It is a privilege to be able to give back to Francis Douglas Memorial College by taking on this role, and I am excited to see what we can achieve this year at the College
"De La Salle and his Brothers succeeded in creating a network of schools throughout France, giving children who could not afford to go to school the chance for a quality education. As a Lasallian college 300 years later, we are part of a collective unit of over one million other Lasallian students spanning over 80 countries.
"De La Salle left us with three key principles: faith, service and community. However, many of us struggle to live by the principle of faith, especially when it concerns God. We often ask: How can you believe in something, and devote your life to something, when you're not even sure it exists? This is the conundrum of faith(but) we owe it to ourselves and to those we love around us to become the best version of ourselves. To do this often involves putting the needs of others before your own, which is where service comes in.
"At FDMC, we 'enter to learn and we leave to serve'. By using your gifts to serve those less fortunate than yourself, you are continuing to spread the Word of God and the mission of De La Salle.
"Over the last year the importance of empathy and gratitude have become evident...
'Christo Duce' (is our motto)- 'Christ as our Leader'. Jesus always led by example and by following in his footsteps we begin our journey towards becoming the best version of ourselves, to become the 'good college men' our community needs us to be. In 2021 practice gratitude. Be empathetic. Live by the Lasallian values of faith, service and community. Through this your connection with God, and your connection to the community will strengthen. And remember to live Jesus in your heart, forever. Thank you."