On Saturday 12 May, Br Luke Warvanuk professed his Perpetual Vows in Kimbe, PNG. Many people gathered to mark this wonderful occasion in the life of the Institute of PNG and for the District of ANZPPNG.
In attendance were members from the local parish, Warvanuk family, friends and several De La Salle Brothers.
Congratulations to Br Luke Warvanuk.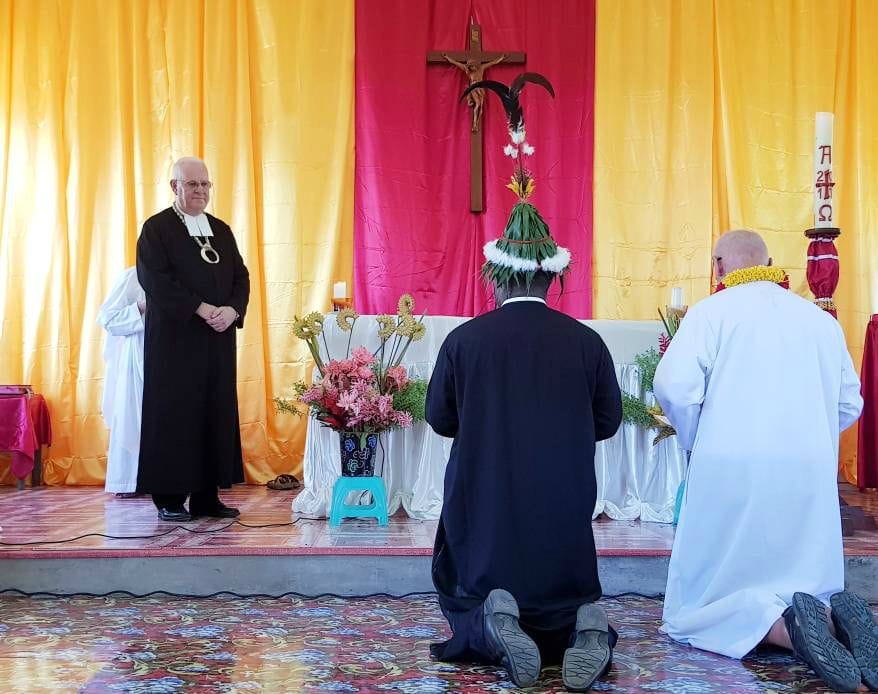 ---
Address by Brother Visitor, Br David Hawke
As I thought about this celebration with Br Luke today, the scripture readings from the Acts of the Apostles and the book of Genesis he chose came to mind. In this post-Easter period, we have been focussing on the Acts of the Apostles including today's reading from Acts chapter 2.
The reading from Acts gives you a model Br Luke upon which to base your life as a De La Salle Brother. As you have in the past and now unto the future; remain faithful to the teaching of the apostles, to the brotherhood, the breaking of bread and to the prayers. Like the Apostles, share your faith and all you have in common with your Brothers in community.
Like Abram, Br Luke you have literally "left your father's house" and you have been blessed as you follow God's call to being Brother.
Since leaving his home here in this beautiful part of PNG, Br Luke has embarked on a journey of vocation where he has been formed as a Brother here in PNG and in the Philippines. His professional development as a teacher has been enhanced by his studies not only at teachers' college but also at Divine Word University. He equipped himself well as a professional teacher and being so successful he was invited to be a lecturer at Holy Trinity Teachers' College, Mt Hagen and now at Sacred Heart Teachers' College, Bomana. Likewise, he continues his formation as a Brother and Lasallian by his participation in the Buttimer Institute in New York. Br Luke, I salute you for your commitment to your professional development and how you use your enhanced skills for the service of others. St John Baptist de La Salle commenced the first ever teachers' college and you continue in his footsteps.
During the month of November 2017, Br Luke along with Brothers John Francis, Waseem Shamoun and Saddique Gill who were also preparing for Perpetual Profession spent some time at a pre-profession programme along with others from the Pacific in Fiji. During the programme Luke reflected upon the fact that Perpetual Profession is not measured in terms of time but that it is an occasion when one gives oneself to God absolutely, today, forever in time and beyond time into eternity. Luke today expresses a desire to be united for all time and beyond all time. He desires to be united with his God uninterruptedly from this moment unto eternity as a De La Salle Brother.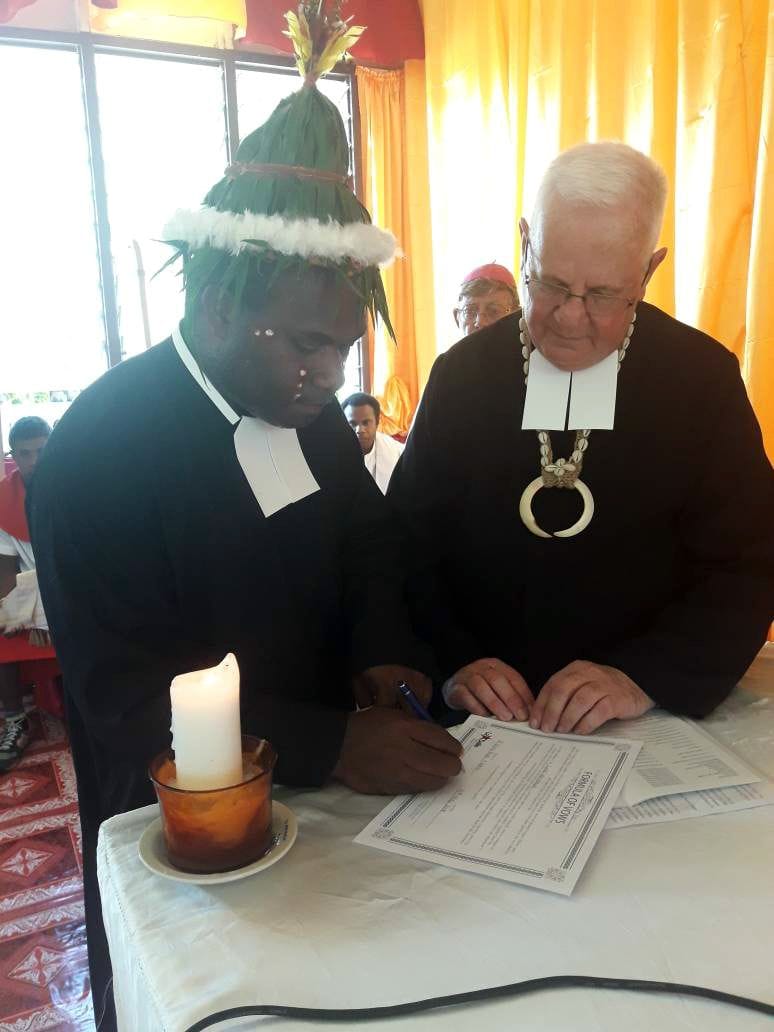 Br Luke by his perpetual profession expresses his commitment to unite himself and to remain in society for his whole life with the Brothers as he expressed in the formula of vows during the Eucharist this morning.
Br Luke what you have professed today and what we have witnessed gives a clear indication that a new form of being religious commenced by John Baptist de La Salle over 300 years ago and new to the Church in his day is just as relevant today in the 21st century. What you have professed today as a Papua New Guinean reminds us that to be a De La Salle Brother is inclusive of all cultures.
Br Luke your profession today gathers many people from your parish family and those whom we name today as our Lasallian Family. What a wonderful cross-section of people from within PNG and the District rejoice with you today and affirm who you are and what you contribute as Brother. Ladies and gentlemen your presence here not only celebrates Br Luke's perpetual profession but it is a tangible sign that each of you has a relationship with the Brothers which we value and Luke is the reason we all gather. Thank-you for being here.
To the members of the Warvanuk family; Luke and Maria parents and siblings Fred, Agnes, Leonora, Norbert, Henry and Quinten, thank you for your support for your son and brother, Luke. To his parents thank-you for giving him the gift of faith now expressed in his vocation to be Brother.
Thank-you for all the preparations for today including members of the Catholic, Uniting, Nazarene, AOG and Christian Revival churches.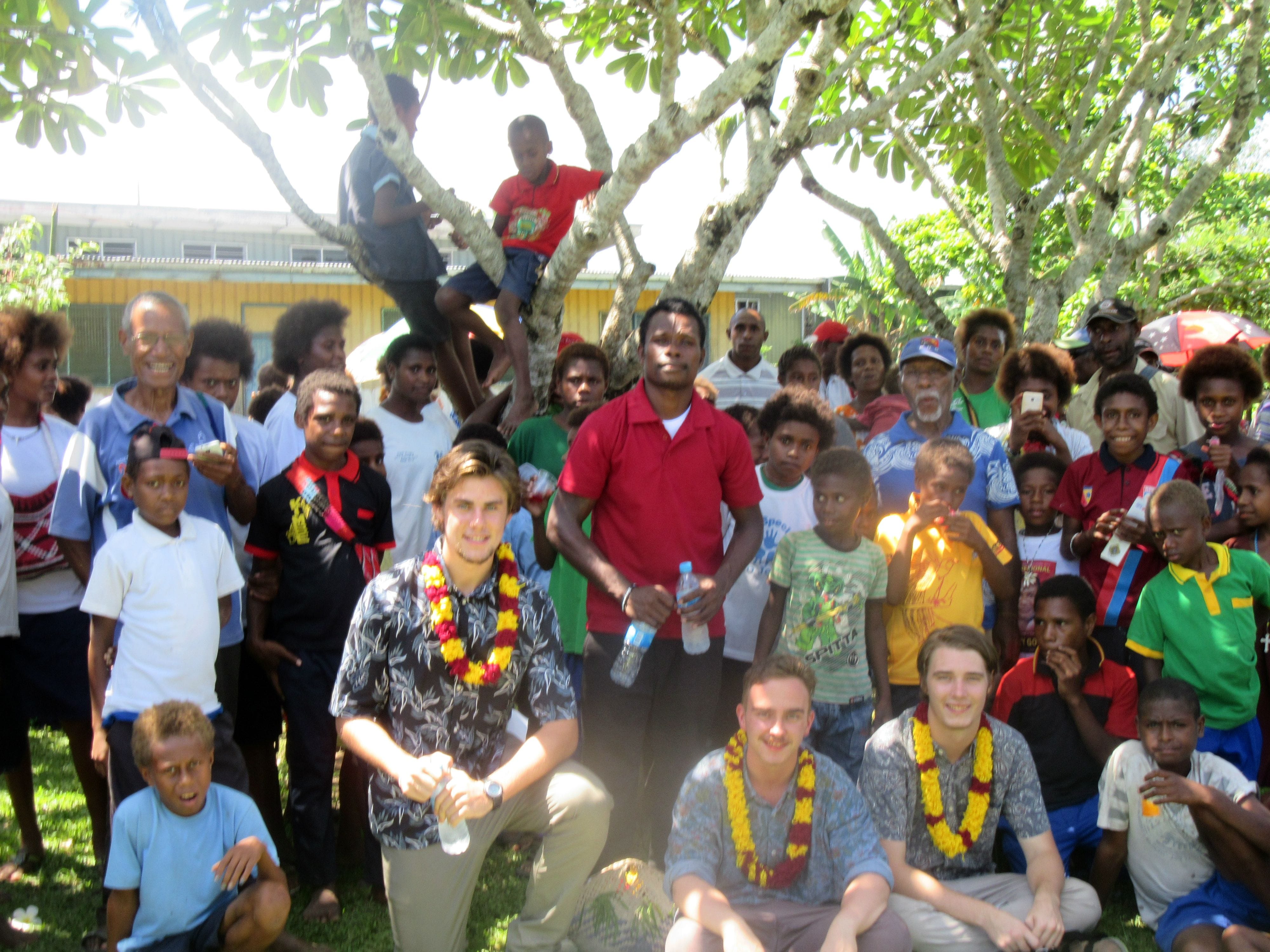 I want to say something to the young men here today. As we look into the future, when will we gather again to witness the perpetual profession of a Papua New Guinean Brother? Who will come after Br Luke? Along with Br Luke I am convinced that God still calls young men to be Brothers and may I add for the young women we have a community of La Salle Sisters in Sydney. An occasion such as this serves to remind each of us that God still calls, the invitation is always there and a response is always welcome. The life of the De La Salle Brother is certainly an adventure and yes young men, you are welcome to experience the adventure.
Br Luke thank-you for bringing us "together and by association" to Kimbe today. And thanks to all for witnessing this wonderful occasion in the life of the Institute in PNG and our District of ANZPPNG.
David Hawke FSC
Visitor