Posted by Grace Wrakia on 17 February 2020
A fresh start is what many people resolute to at the start of a new year. Even for teachers, whether they have been teaching for more than 10 years and have just started their careers, they too are determined to start afresh. All 40 teachers at De La Salle Secondary school, Bomana and 18 new teachers from La Salle Technical College Hohola participated in a one-day PNG Lasallian Heritage Program on the 27th - 30th of January. The program was facilitated by the school-based Lasallian Adult Formators - Br. Luke Warvanuk FSC for Bomana, Br. Sajawal FSC for Lasalle Technical College, and the Lasallian Family office. The day was spent connecting the teachers to the Lasallian story, which they are all apart of when teaching in a Lasallian School.
The Lasallian schools and teachers in Papua New Guinea have participated in many Lasallian Formation programs both within PNG and abroad. There is a varying length of involvement in these programs as well as in the degree of experiences of Lasallian educators who have either attended or have facilitated these programs.
The Lasallian Heritage is shared by more than 80 countries around the world. It is faith expressed in different ways as it passes through generations, culture and geography. This heritage passes on through formal /organised inductions as the ones recently held at De La Salle Bomana Secondary, and at La Salle Technical College Hohola or through small and informal groups and/or through the individual experiences of Lasallian colleagues - Brothers and Partners.
RENEWAL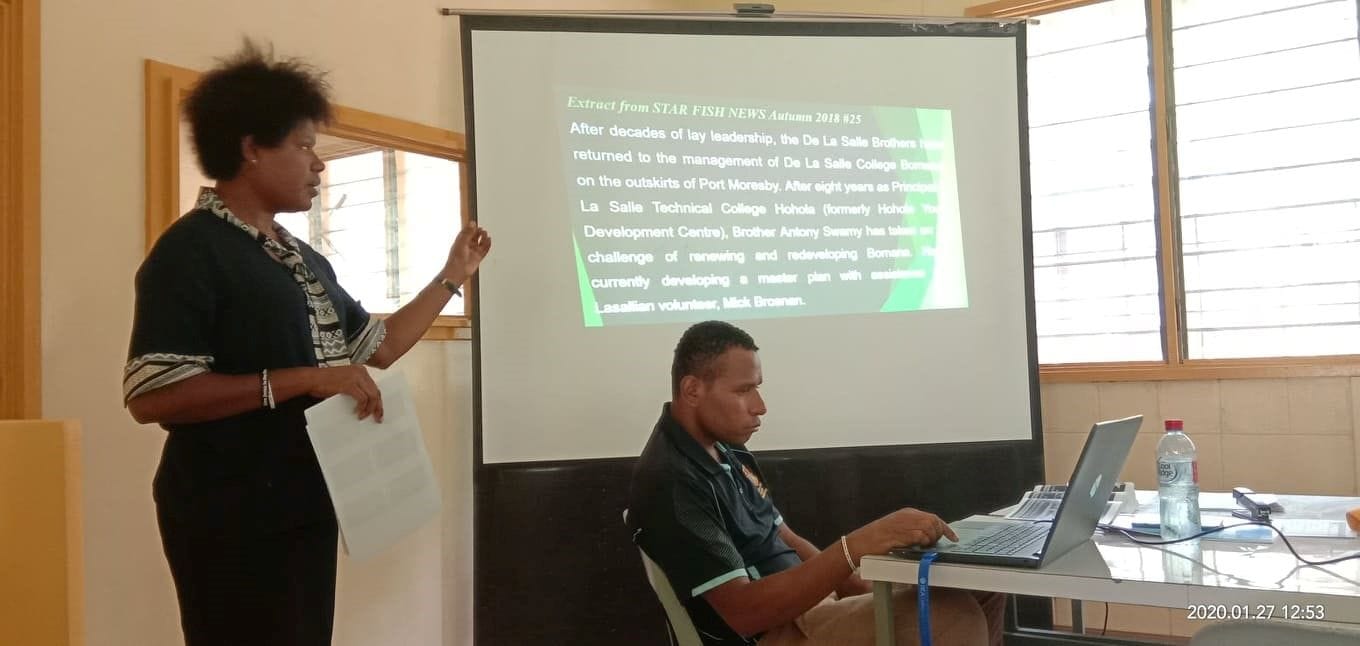 There are many prayer exercises that can be used to renew the Spirit and re-energise teachers at the start of a new school year. For Lasallian teachers inducted by the PNG Lasallian Heritage program- they were guided using the MTR and the Brothers Rule as written by Br. Joan Pierre Laudy FSC;
"By the movement of the Spirit" [Rule of 1718, c.11]
By God's direction [Rule of 1718, c.11]
"With the intention of pleasing him" [Rule of 1718, c.11]
" sacred scripture the first and principal Rule" [Rule of 1718, c. 11]
"As ambassadors and Ministers of Jesus Christ" [Med 195:2; 21:2]
"Often ask God for the grace to touch hearts" [Med 81:2]
"How fortunate you ought to consider yourselves, to be working in the field of the Lord" [med 207:1]
After this exercise, derived from module# 3 Lasallian Spirituality, the teachers were split into two groups; the new, and the continuing teachers. Those who were new received in-services from the Founding Story while the continuing teachers participated in topics on Lasallian Pedagogy. Before lunch and at the end of the day's program, the two groups merged for prayers; Lasallian Spirituality.
Though it was the very first day of work, the teachers participated actively in all the sessions, making it a meaningful experience.
THE 12 VIRTUES OF A GOOD LASALLIAN TEACHER
Presenting and/ or teaching teachers about the 12 virtues is like cutting out one slice of a big cake. But getting teachers to identify and develop actual teaching strategies that bring out these qualities in themselves and in their students is more practical and suitable, especially for teachers who have already learnt about the virtues in theory.
More than 20 of the continuing teachers at De La Salle Secondary School, Bomana, participated in an activity which resulted in them dramatizing situations from their personal experience(s) in the classrooms where they used one of these 12 virtues. Each role-play ended with an open discussion on the effectiveness of the strategy applied and the importance of the virtue being dramatized.
Brother Jeffrey L. Calligan, FSC, together with Lasallian Education Service (now Lasallian Mission Services) compiled a list of Teaching Strategies for the Twelve Virtues of a Good Teacher. This list of teaching strategies was used as guides when coordinating the in-service under the module: Lasallian Pedagogy.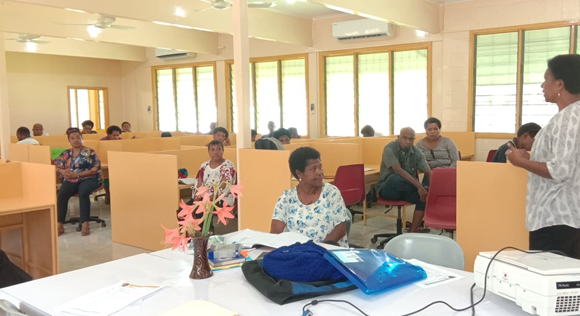 INTERIOR PRAYER
At La Salle Technical College Hohola, 18 new teachers engaged in prayerful reflections throughout the one-day Papua New Guinea Lasallian Heritage Program. In between the in-service presentations, there were moments of personal and silent prayer. This prayer exercise was guided by the method for Daily Offering of the Self adapted De La Salle's "Method of Interior Prayer" by Br. William Mann FSC and Br. Willian Woeger FSC. The reflection followed this method and was guided by reflective questions and the days' gospel reading:
First Movement - Remembering the presence of God in
Second Movement - Contemplate on the Mystery of God's love at work in the World. Read the days' Gospel Reading and reflect on it as to how its message can come life in our lives.
Third Movement - Resolve to the Spirit working in and through us today.
After 2 minutes of silent meditation, most teachers found it challenging to stay focused. This was a new exercise for many of them. Soft meditation music, in the background and a candlelit in the centre of the room, are simply external strategies to assist the meditation process. More effort comes from within the participant. However difficult it may be to engage in such a method of prayer; the outcome is satisfying and often quite relaxing.
CONCLUSION
PNG Lasallian Heritage was designed by the Area Coordinators in 2018 and further developed by training / resources from Lasallian Mision Services and resource materials from Br Bernard Cooper. It is built on 3 modules; 1. The founding story, 2. Lasallian Pedagogy and 3. Lasallian Spirituality. Under each pillar, more than 10 topics with related outcomes are identified. The program is special and contextualised by including parts of the Papua New Guinea History- from the time of the pioneer Brothers to the recent development of the PNG Lasallian Family. There are more than 30 certified adult formators scattered across PNG, who can facilitate this program.
Connect with dedicated Christian Educators who are committed and determined like St. John Baptist de La Salle, Patron Saint of Teachers and relate to the personal challenges and successes of the pioneer De La Salle Brother who helped shape the education system in PNG's History .
Lay partners, together and by association, with De La Salle Brothers, can offer your teaching and support staff, a day of prayerful reflection and professional enriching experience.
For more information email the Lasallian Family Office on lasllianfamily.png@gmail.com