Posted by Michael Kenny on 12 July 2016
To mark the 70th anniversary of continuous Lasallian education in Papua New Guinea, a record number of delegates from across the country are in Port Moresby this week attending the National Gathering of Lasallian Teachers.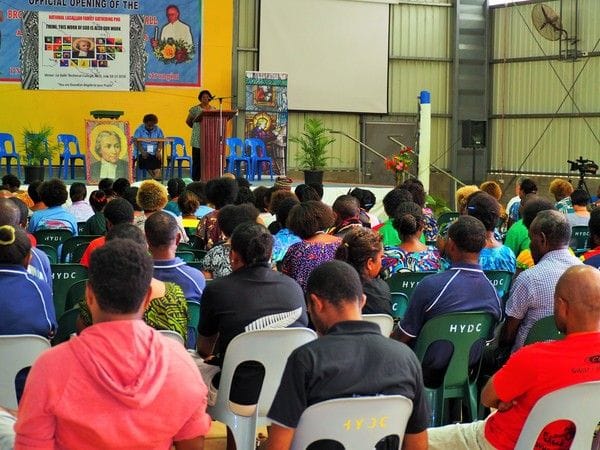 Hosted at the La Salle Technical College in Hohola, the event is held once every three years and this year has proven to be by far the most popular ever- with 230 delegates attending from urban and remote provinces.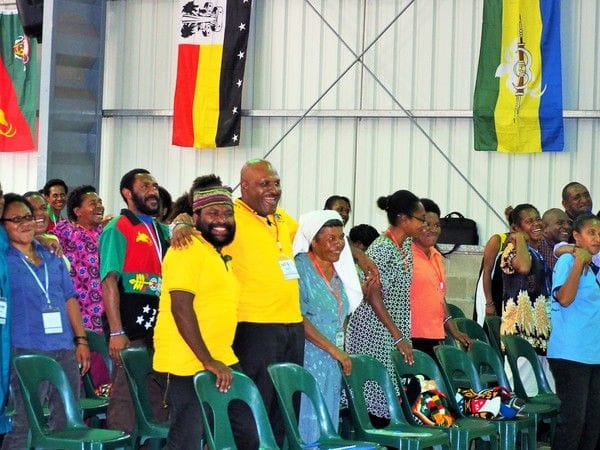 The high attendance is a powerful reflection of the inspiring zeal and commitment to the Lasallian charism which is helping it to expand well beyond Port Moresby to some of the most remote areas of the nation.
This year's event has featured keynote addresses and workshops on topics such as Lasallian leadership, classroom management, using smartphones in teaching and engaging Lasallian youth.
In her opening keynote address, the Principal of Jubilee Catholic Secondary School in Port Moresby,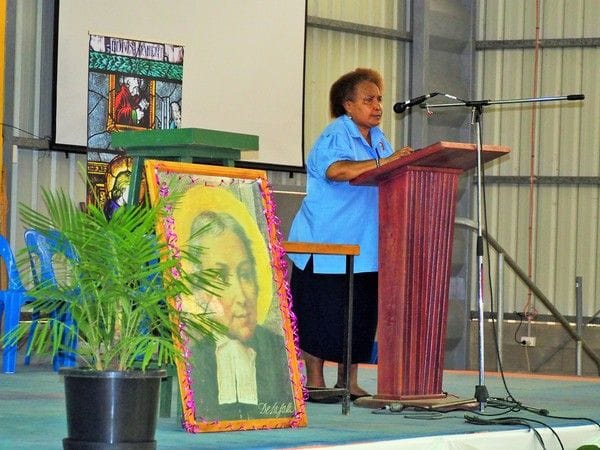 Mrs Bernadette Ove reflected upon the rich and enduring legacy left by St John Baptist de la Salle over 300 years ago and which continues to inspire generations of teachers today.
"The Founder faced many obstacles in setting up his network of schools for the poor in France, but he never gave up", Mrs Ove said.
"Just as the early apostles didn't make excuses and went about spreading the good news of Jesus, we too need to maintain that same faith and zeal in what we do in schools across PNG today", she added.
Mrs Ove assumed her current role in 2001 and has led Jubilee Catholic Secondary School into a position where it is one of the best performing schools in the country, helping many young Papua New Guineans access a tertiary education.
"As Lasallian partners, the responsibility is very much in our hands to keep the mission going, of living up to the Founder's call to change minds, touch hearts and transform lives- these are indeed the greatest miracles we can perform in education", Mrs Ove told the gathering.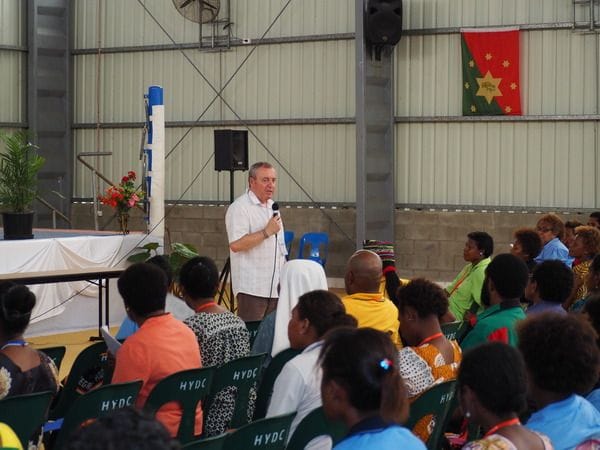 Another committed Lasallian educator, Mr Gary Burrows delivered a thought-provoking keynote address at the conference, offering some insights into an innovative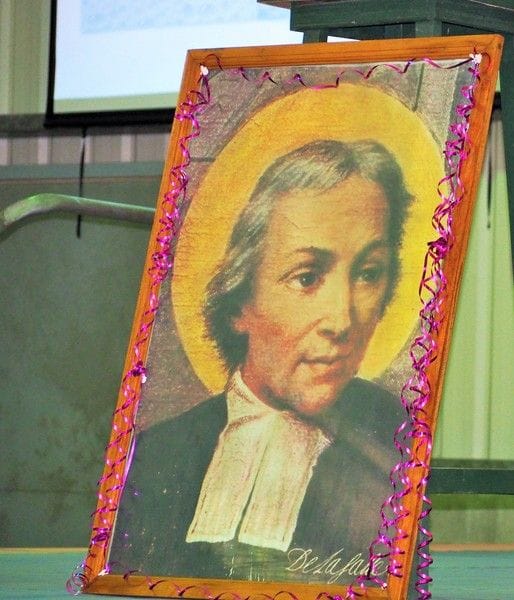 program he implemented during his time as Principal of a Sydney school, De La Salle College Caringbah.
The restorative justice program first introduced at De La Salle Caringbah has been so effective that it has been adopted across Catholic schools in the Archdiocese of Sydney.
The model moves away from the authoritarian approach to classroom discipline adopted by past generations.
It instead relies upon students taking personal responsibility for their own behaviour in a positive environment which focuses upon the need for respectful relationships in schools.
Mr Burrows told the PNG teachers, the program led to a far more productive environment at De La Salle College Caringbah, including a 43 percent drop in absenteeism in its first two years and much improved academic results.
"It helps students appreciate how their behaviour has a direct impact upon those around them because time is set aside for daily conferencing where teachers can meet with students and discuss the behaviour which is generating the concern", he explained.
Mr Burrows said restorative justice practices tie in closely with Lasallian education because the Founder himself emphasised in his writings the need to move away from corporal punishment and more towards correction of bad behaviour.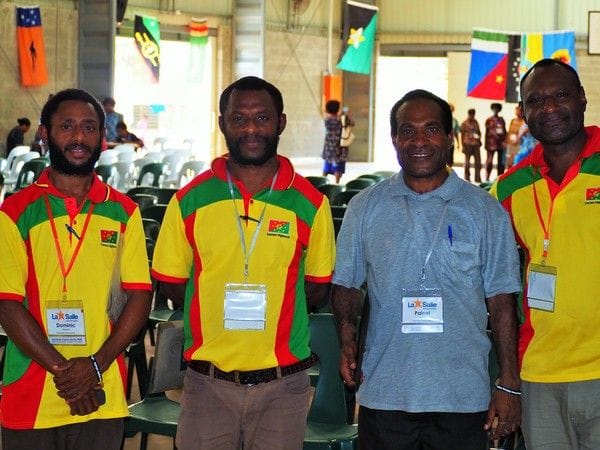 One of the teachers at the PNG Gathering from the Southern Highlands region, Mr Erick Maukos said he was looking forward to implementing restorative justice practices in his classes when he returns to school next term.
"There is definitely a danger in focusing too much on the negatives when trying to tackle bad behaviour", he said.
"We really need to create avenues to give students the opportunity to learn from their own misbehaviour and this is a very sensible way to go about it".
Another key focus of the PNG National Teachers Gathering has been the need to meet the challenges of the digital classroom in a country where telecommunications can be unreliable.
In many remote areas of PNG, laptop computers are scarce and the smartphone is the preferred means of communication.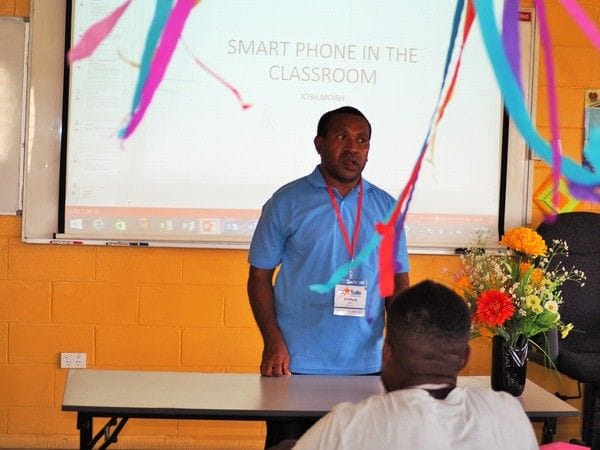 Teacher Mr Joshua Moish delivered an interesting workshop around ways in which the smartphone can be used as a teaching tool, covering key areas such as basic mathematics, using online dictionaries and accessing the periodic table of the elements in science classes.
"The smartphone can help engage students in their learning because it can be a far more creative way to learn", Mr Moish told the workshop.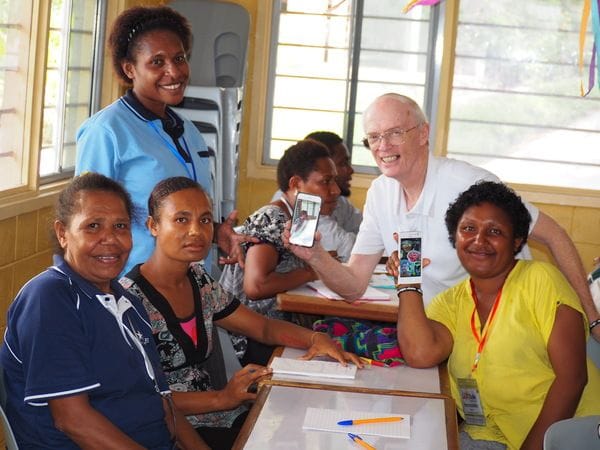 Auxiliary Visitor and PNG Sector Coordinator Br Chris Gorringe joined in with the PNG teachers in a group exercise in which they had to interview one another on their smartphones about what it means to them to be a Lasallian as practice for a similar exercise they could draw upon with their students.
The Lasallian Youth Minister for Papua New Guinea, Mr Dagia Aka also led a workshop looking at
creative ways of engaging youth in the Lasallian mission in schools.
Mr Akia drew upon the core Lasallian values of faith, service and community to trigger a group discussion around what sorts of activities teachers could lead under each of these categories.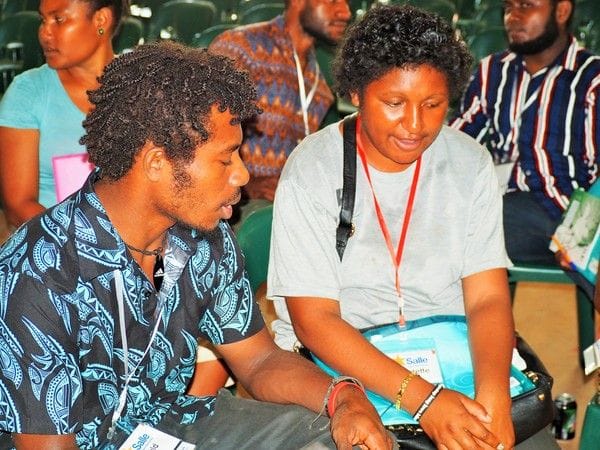 While a mass or a retreat would cover the faith dimension and a volunteer project in a community centre could cover the service side, the community dimension is generally left more to the teacher to organise, whether that be through activities like a movie day or a community sports event.
"Through the community based activities, it's more your turn then as a teacher to help build a stronger relationship with your students, whereas the faith and service dimensions are more in the hands of the students to make them work effectively".
Goroka-based teacher, Ms Grace Wrakia also delivered a memorable workshop on effective classroom language teaching.
In a country where most students speak English as their second or possibly their third language, Grace argued that teachers across all year levels have a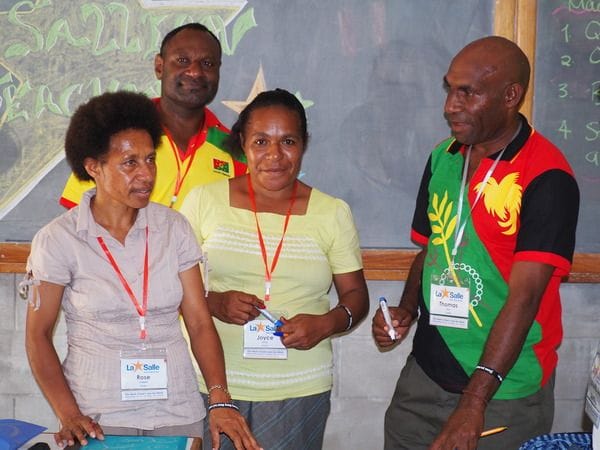 responsibility to help students improve their spoken and written English.
Through the workshop, teachers working in different parts of PNG shared insights around the challenges they face in addressing the needs of second language learners.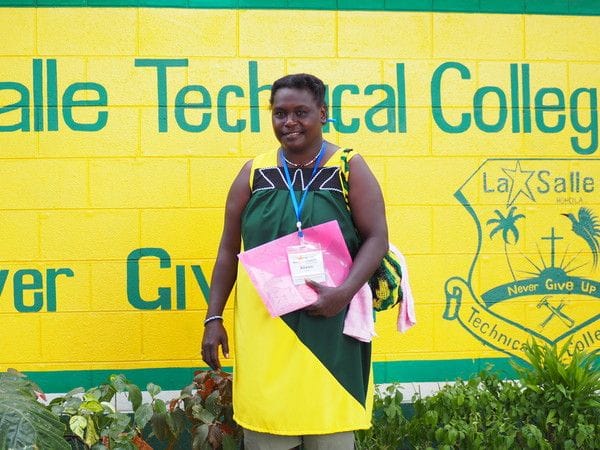 As a primary school teacher from the remote Enga Province, Mrs Aileen Saleu is well aware of these challenges based upon 17 years of teaching in remote regions of PNG.
Mrs Saleu believes teachers working with limited resources in isolated areas need to increasingly rely upon smartphone technology to cover basic areas such as literacy and numeracy.
Another way of addressing the resources challenge for PNG schools has been through Twinning, whereby many Lasallian schools in Australia and New Zealand are using their annual Mission Action fundraising to help strengthen resources for primary and secondary teachers in Papua New Guinea.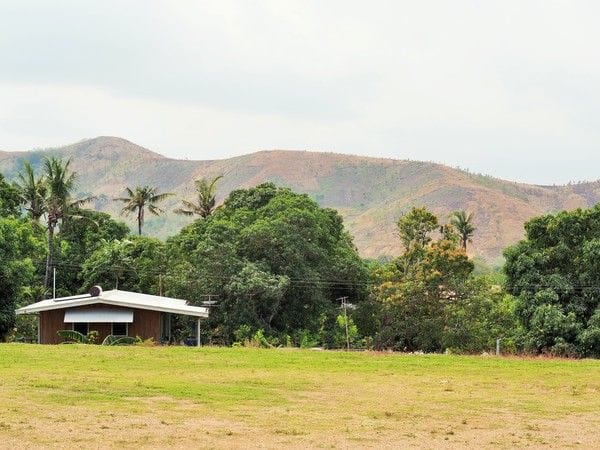 Mrs Saleu said the National Lasallian Teachers Gathering has been a great opportunity to share ideas and insights with fellow teachers from around the country, facing similar challenges but united under a common charism.
"It's been very inspiring seeing so many fellow Lasallians here and to see the way in which they draw upon the legacy of St John Baptist de la Salle to animate and sustain such an important vocation as a teacher across our schools and teachers colleges in Papua New Guinea", Mrs Saleu said.