Posted by Br Raymond J Khan fsc on 14 February 2018
Reaching out to those in need
Over 140 people gathered in the Sacred Heart Parish Church, Hoholoa in Papua New Guinea (PNG) on the 5 February to witness the granting of Affiliation to three outstanding Lasallians - Fr John Glynn, Bernadette Ove and Joan Eoe.
Father Peter Silong was the main celebrant at the celebration of the Eucharist. The choir, musicians from Jubilee Catholic Secondary School led the congregation in both English and Pidgin.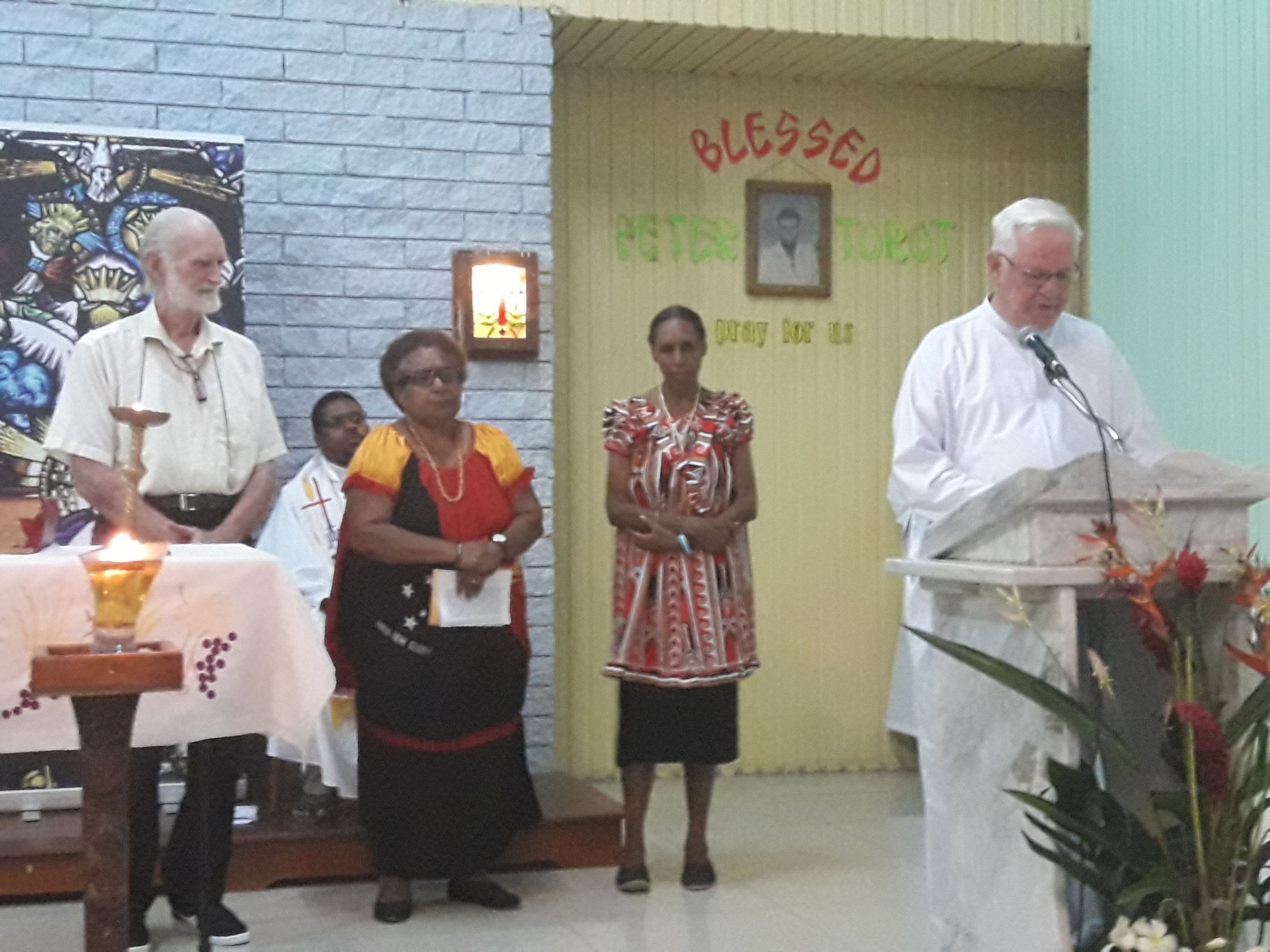 In his welcome speech, Br Rick Gaffney, Sector Co-ordinator for Papua New Guinea, set the tone for the occasion, expressing deep gratitude to Bernadette, Joan and Fr John for their individual contributions to the Lasallian Mission in Papua New Guinea.
At the commencement of the Affiliation ceremony, Br Phillip Elwin, Br Denis Loft and Br Bede Mackrell read the citations in support of Fr John, Bernadette and Joan.
The three Brothers travelled from Australia for the event and each one had ministered for many years in PNG.
Br David Hawke, Visitor, representing Br Robert Schieler, Superior General of the De La Salle Brothers, presented the Letters of Affiliation to Fr John, Joan and Bernadette. In part, the Letter reads that the Brothers "acknowledge with joy and gratitude their outstanding collaboration with the Institute, the quality of their personal life inspired by Lasallian spirituality, and their active and long-lasting participation towards the work of education."
The new Affiliated Members were also presented with three symbols of the Brothers a New Testament, a crucifix and a six-decade set of rosary beads.
In responding to the presentation, Joan, Bernadette and Fr John expressed their heartfelt thanks to the Brothers for granting them this honour.
Whilst each Lasallian story is different, there was a common thread in their responses; their deep love of God, their desire that every person deserves the best education possible and their passion for reaching out to those most in need.
The Brothers are proud to welcome Bernadette, Joan and Fr John as Affiliated Members of the Institute.