In a new initiative at De La Salle Ashfield, boys in Year 7 and 8 spent a great Friday night on 10 June, playing basketball and dodgeball with their fathers or significant male figures in their lives.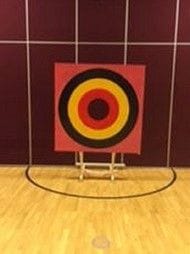 It proved to be a wonderful opportunity for school parents to socialise and for sons to spend some precious free time with their fathers in a fun atmosphere.
The event was made possible through the combined efforts of eight teachers and three student leaders who made sure the event went smoothly.
The great competitive spirit was on show in the school hall with the fathers winning the basketball competition, but were upstaged by their sons in the football passing contest.
The Dubbo Dodgeball Challenge was more evenly matched with the fathers and sons teams winning one match each.
One of the school parents, Mr Tannous provided some delicious Lebanese desserts to complement the Magnums at the end of the night.
The event was so successful that Principal Stephen Kennaugh is looking forward to hosting further events for mothers and their sons over coming months.