Posted by Br David Hawke on 7 April 2020
Dear Lasallians,
Please pray for the eternal rest of Br Vincent Cotter (aged 93 years) of the Karlaminda community who passed away peacefully at 9.15 am on Sunday 5 April 2020.
We pray for his eternal rest, for the Karlaminda community and in thanksgiving for Sister Pauline and the staff at St Joseph's Nursing home whose care of Vincent was second to none.
The Mass of Thanksgiving and Rite of Committal for Br Vincent Cotter was celebrated today at 2.00pm in the chapel of the Karlaminda community, Kensington. Click HERE to view the Memorial Booklet
Mass of Thanksgiving and Rite of Committal - Welcome
Today throughout our international Lasallian Family we recall the death of St John Baptist de La Salle who passed away on this day in 1719. It was Good Friday.
Today we celebrate the life and entry into eternal life of our Brother Vincent Cotter who followed the way of St John Baptist de La Salle as a Brother of the Christian Schools.
We gather in extraordinary circumstances in what is, I expect the smallest congregation at the funeral of a Brother is the history of our District. While many may regret not being able to join us today and we cannot celebrate Mass together in the Chapel of St John Baptist de La Salle at Oakhill, that sacred place so special to us, I think Vince would not have wanted a fuss in his honour today but a simple ceremony with those closest to him; the Brothers of the Karlaminda community and the women who work here.
I do not need welcome you to your own home but welcome each of you to this Mass. Fr John we are most grateful to you for presiding over our Eucharist today. Welcome to you.
David Hawke FSC
Visitor
Tribute from Deborah Barkauskas (Deborah Sim)
The wave properties of light theory Brother Vince taught me in high school is something I use every day of my research life. I am so grateful that Brother Vince instilled in me a scientific rigour based on first principles that serves me every day and I believe this is the hallmark of an excellent teacher. But he was much more than that to me: he introduced me to electronics and inspired me to do electrical engineering and biomedical engineering which has shaped my life to this day. He was a great storyteller and I learned that he had a great thirst for knowledge, overcoming dyslexia and so many other challenges in this world, teaching himself what he needed to then help others as much as he could. To me Brother Vince was patient like a father. I am forever in debt and gratitude to him and will miss him dearly.
Eulogy given by Br Gerard Rummery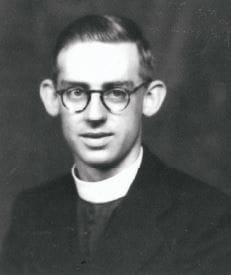 James Cotter was the second son of John and Mary Cotter, born at Ashfield on 29th September 1926. His father, who worked on the railways, was appointed successively to Ungarie and then later to Bethungra, the famous railway loop on the southern line to Melbourne. The young James went by train each day to the Brothers' school at Cootamundra and then followed his own brother Dennis to join the De La Salle Brothers in January 1941. After two years completing his secondary education in the Castle Hill Juniorate, he entered the novitiate in 1943 and was given the name of Brother Vincent Leonard Cotter. He had one year as a novice followed by one year's training in the scholasticate. In 1945, twenty years old, not much older than some of his pupils, his first assignment was to a primary class in Haberfield but after a very short time he was changed to the boarding school at Cronulla where he was to spend the next 20 years. It was 1945, the last year of World War II, teachers were scarce and of course governments paid no money to Catholic schools.
Vincent's reminiscences of these years include such surprising details as acquiring his First Aid accreditation (after all it was a boarding school), teaching maths and physics "always just one page ahead of the kids," studying and passing the Institute's catechism diplomas, the lower one and then the higher one, playing the organ for chapel services, (yes. he had completed the first four piano grades), supervising boarders, and gradually establishing himself through relentless personal study as a highly successful Science teacher at De La Salle College.
One of his Cronulla students in the late 1950s was a John Grant who graduated in 1961, went on to obtain a PhD in physics at UNSW in 1969 and wrote of his former teacher, "he was the one who was basically responsible for putting me on the track to University and a successful career in physics. I and a great number of other students benefit immensely from this man's dedication to education. He was heavily involved in honours level physics and chemistry and held extra classes for us at the weekend. I owe a great debt to this man." John Grant expressed his gratitude by establishing the Brother Vincent Cotter scholarship in 1998 at the University of New South Wales to provide extra financial support for scholarship students taking the honours year in the School of physics.
Brother Vincent was not to get his own Bachelor of Science except by part-time study from the Marrickville community until 1970. Brother Vincent recalls these study years at UNSW remarking "there were students whom I'd taught one, two or three years previously, and very often we sat together and we studied together." What a wonderful reminder this is for us of the first men who joined John Baptist de La Salle 350 years ago, choosing to call themselves 'Brothers," older brothers to those whom they would teach!
Once in the Karlaminda community when we were talking about some Brothers who had become renowned as sports' coaches, Brother Vincent reminded us that at Cronulla he was asked one day unexpectedly to accompany the five stone seven rugby league team to a fixture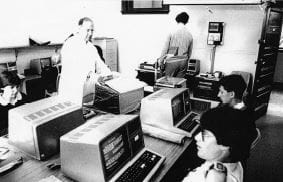 as no other Brother was available: naturally the team was victorious!
After 1970, Brother Vincent was next to spend 10 years at Saint Michael's, Adelaide, where he continued to teach science with distinction before being assigned to train science teachers at the newly formed teachers' colleges at Castle Hill, Polding College and Catholic College of Education. Upon retirement, he had permission to establish Catholic Schools Electronics to serve Catholic schools in the Sydney Region. At the La Salle Community House at Castle Hill he found time to teach physics to Debby, the youngest member of the Sim family who looked after the community.
Brother Vincent and his own brother, Brother Denis, were very different characters with very different talents, but they never served in the same community. Denis was particularly successful as a musician, creator of a brass band of high quality, director of Gilbert and Sullivan operas. But when their sister married into a farming family in West Wyalong they would both spend some holiday time at their sister's farm, Denis preoccupied with his next musical venture, Vincent now qualified as an electrician, wiring the family home and all the accompanying sheds. In later years, nieces and nephews loved to keep contact with both Denis and Vincent.
In 2003 Vincent was able to retire and return to the Cronulla community. As medical problems began to dominate, however, he was moved to the Karlminda community where a nurse and carer were better able to look after him and attend to his medical and personal needs. In 2017, when his needs soon became 24-hour needs, he was moved to St Joseph's nursing home where the Sisters and nursing staff provided wonderful care for him. He appreciated all their attention and indeed often said so.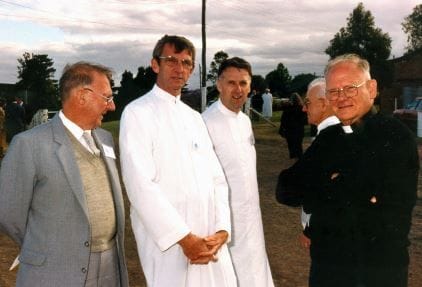 Brother Vincent was a wonderful Brother who worked hard all his life and lived what he had professed as a vowed Brother. There is no doubt that he especially loved his 20 years at Cronulla: for him, they were the best years of his life. He remained a creative person with a fine skill in preserving anything that he might use again even if it took years to make use of it again. He used cartons and cans from the kitchen and refashioned them into useful containers for anything he needed to store. He cut the top off a juice bottle to create a useful washing implement for his vinegar and essence mix to clean his medical tubes. He knew where everything was in his room provided you gave him 10 minutes to remember where!
When he moved to the nursing home, he requested that, if possible, he would like his computer and his desk. Over the years he had created programs of astounding complexity and usefulness, programs for weather charts, for teaching young people the fundamentals of mathematics. He had a a program for solving sudoku he just entered the numbers from the daily papers and away he went but not always with success!
Always the gracious old man of good manners, he quickly warmed to those who cared for him at St Joseph's. When Brothers visited, his parting comment was always, "thank you very much for coming!" By his side was always his Manual of Piety, the book he received when he entered the novitiate, and his New Testament and of course his rosary beads.
Today we say a loving farewell to a Brother who dedicated himself to work as a De La Salle Brother. He loved his years in the classroom and always fondly remembered it. He was dedicated to his personal prayer and until recently always had his Manual of piety nearby and continued to say the prayers he had learned from it years before. He was always very happy at Saint Joseph's because he knew he would be well looked after and he was grateful for that.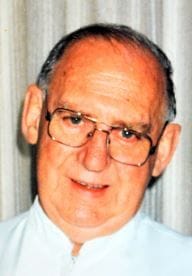 The Our Lady of the Sacred Hear Sisters, particularly sister Pauline, have truly taken wonderful care of Brother Vincent up till the moment of his death. We are in their debt for their commitment to the care of our elderly Brothers and particularly to Brother Vincent as he entered palliative care. We pray for the whole team of carers at St Joseph's led by Sister Pauline.
May our Brother Vincent rest in peace!