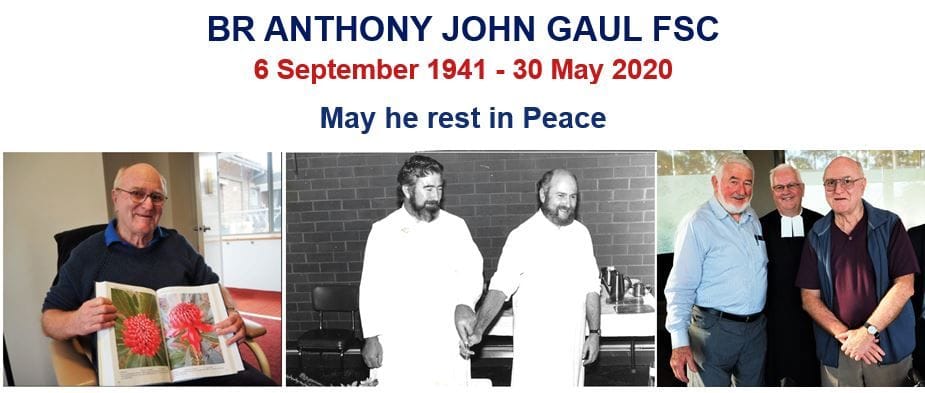 Dear Brothers and Lasallian Partners
Brother Tony Gaul passed away at the Sacred Heart Hospice Darlinghurst at 9:43 am (local time) on Saturday 30 May 2020. Br Raymond Khan was with Br Tony at the time and reports that "he gave a few breaths and went to God."
We remember him as a dedicated religious and renowned teacher and doctoral student, serving in Australia, New Zealand, Papua New Guinea and Manado in Indonesia. In addition to his Ph.D he completed in recent years an amazing study of the flora in the Sydney basin.
Br Paul Rogers, Director of the Karlaminda community mentioned in an email to me recently; "Tony is an amazing individual, very intelligent, dry sense of humour, patient, insightful and tolerant of all, and enjoys a wonderful relationship with all those he lives with, and, his surviving two Brothers who live in the outer Sydney region who also visit him regularly."
Tony had three brothers:
Kevin (deceased), his wife, Madeleine is in a nursing home in Toronto, Canada.
Greg and Carol who live in Lawson, NSW.
Brian and Anne who live in Wyong, NSW.
We pray for Tony's eternal rest, for the Karlaminda community and for the Gaul family.
Br David Hawke, Br Visitor
Mass of Thanksgiving - 2 June 2020

Introduction by Br Bill Shaw
On Tuesday 2nd June the community at Karlaminda was able to farewell Br Anthony John Gaul (Tony) with Mass of Thanksgiving said by Fr John Kelleher with Fr John Da Luca concelebration.
Fr Da Luca and Mr Peter Olive were classmates of Tony at De La Salle College Coogee. In attendance was the Visitor, Tony's brother Brian and his wife Anne, the Karlaminda Community and members of the staff who looked after Tony during his time in this community.After Mass Brothers of the Parmenie community were able to join with us for the final commendation outside the community house where all joined in the singing of the Salve Regina and the blessing of the Coffin before it left for Castle Hill.
At the Oakhill Cemetery, other members of Tony's family including his brother Greg and his wife Carol were present together with Brothers from the Castle Hill, Bankstown and Parmenie communities.
The Karlaminda community appreciated the words of support from Brothers as well as colleagues of Tony from many places, and former students who wrote of their appreciation of the support and enthusiasm Tony had given them.
Welcome by Br David Hawke, Br Visitor
One could not have chosen a more appropriate Gospel than the one we listen to today as we celebrate a Mass of Thanksgiving for the life of Br Anthony Gaul and pray that he rests in peace in eternal life.
We hear Jesus say," you are the salt of the earth" and "you are the light of the world." As a dedicated religious Brother, renowned teacher and scholar he was indeed the "salt of the earth." He let his light shine across three countries in our District and in Indonesia. As his light shone, he epitomized all that St John Baptist de La Salle expected of his first Brothers as teachers.
In an email I received this morning from Dr Michael Kelly, a former student of Tony's at Francis Douglas Memorial College, New Plymouth he wrote:
At his funeral, I hope there will be a bidding prayer of gratitude to Brother Tony from all his former pupils - I estimate five or more thousand over 40 years."
Welcome to the Brothers and staff of Karlaminda community whose journeying with Br Tony in recent weeks has been second to none.
Welcome to Br Tony's family; Greg and Carol and Brian and Anne.
Our celebrant today is Fr John Kelliher, Missionary of the Sacred Heart and Superior of the adjacent monastery. Fr John attended to Tony's spiritual needs during his illness and as he prepared for death. Welcome once again Fr John. And welcome also to Fr John de Luca, a contemporary of Br Tony at De La Salle Coogee.
Click HERE to download a copy of the Memorial Booklet

Eulogy given by Br Paul Rogers
This reflection is the product of over 30 reflections on Tony. They come from the four countries where he worked, from Brothers, students and teachers alike and are a splendid accolade for the man we all knew.
Anthony John Gaul was the eldest son of John and Theresa Gaul, born at Crown Street Hospital on 6 September 1941. Tony's father was a telephone technician in the Postmaster General's Dept. His mother was a trained milliner, giving up work when her four sons came along and only resuming work in the clothing trade later in her life.
Tony and his three brothers Kevin, Greg & Brian, all attended DLS Coogee, from which Tony eventually moved on to the Juniorate in 1956. Tony had a very vibrant memory of Coogee and its beach, often recalling how he and his brothers headed for Coogee beach, and elsewhere, each afternoon. He declared that he was only a body surfer! He never lost his close interest in the beachside suburb.
Following his years in the Juniorate and Novitiate(1959), Tony was one of those Brothers selected to pursue their Science degree, full-time, at the UNSW. He completed one Unit in Geology and that sustained him for his lifetime. After Uni it was on to the wonderful world of teaching. Tony was a superb teacher. That calm, unassuming and unflappable demeanour effused a love of knowledge that endeared him to so many of his students. He may have been first to the upper reaches of Mt Taranaki when he climbed with students and staff, but it was his teaching prowess rather than his climbing prowess that shone out from the start of his teaching career.
His first teaching appointment in 1964 was to Francis Douglas Memorial College, New Plymouth NZ. A former student, Professor Michael Kelly, Emeritus Prince Phillip Professor of Technology, Cambridge, UK, had this to say of his teacher, Brother Luke (Tony). "I remember him, very quiet, even shy, but there was form and structure to his every lesson. His emphasis was on clear and precise thinking. There was much toing and froing between teacher and pupils on the topic at hand. The material was new, fresh and fascinating to me, made more so by Brother Luke's insights. Such an approach is necessary but not sufficient to be an inspiration. It took me until I was a full-time researcher that I got to understand the other piece. That was Brother Luke's own insatiable curiosity, and appetite and interest in new knowledge".
Of his time in New Zealand, Peter Bray recounts: "On one occasion, in Taranaki, he joined a course from Massey Uni in Palmerston North on an excursion on Mt Taranki. Fortunately, the lecturer who was leading the course was humble enough to admit soon after the excursion began that Tony knew more than he did about the geology of Mt Taranaki."
In 1975 he moved on to St Bede's, Mentone. It was during this time that he decided to pursue postgraduate studies, no doubt stirred upon by the landscapes he had climbed and conquered in the surrounds of New Plymouth. He taught from Monday to Friday and would then drive up to the Tolmie Highlands to chip away at rocks and study rock formations. He loved the bush the expanse of plants, rivers, spurs and plains, and the impact that human beings had on it. As Br Gary Wilson put it: " A keen bushwalker, he could walk confidently, tirelessly and with ease in that world in all its abundance. Perhaps, like Gerard Manly Hopkins, he could easily see and delight that 'the azure-hung hills are his world-wielding shoulder'". More recently a student of Br Anthony's from St Bede's had observed that "it was Br Anthony who was such an inspiration to me and others that we pursued further studies in Geology and Earth Science at University. I remain engrossed in the subject."
Br Bill Firman was his Principal across his time in St Bede's. Among his favourite stories of Tony was the occasion when a boy appeared at the door of the Brothers house and said to Br Finian: 'Could I speak to Br Moses please?'. Tony was viewed as the wise old man with a long red beard. The other story was when the phone rang at the Brothers House and was answered by Anthony Hawkins. The caller requested to speak to Br Tony. Tony Hawkins enquired as to which Br Tony he wished to speak to. The reply came: ' The intelligent one!'.
In his Doctoral studies at Monash University's Department of Earth Sciences, he focused on the 'Geology of the Tolmie Highlands Igneous Complex'. In the process of pursuing his PhD studies, he privately depthed in himself an understanding of nature and the beauty of the native flora, which would remain with him for the rest of his life. His PhD thesis was not completed until January 1995.
After three years in Armidale(1989-1991), he was posted to PNG in 1992. Here he worked in the Teacher Training College at Mt Hagen. His Flickr pages online indicate his fascination and love for the native flora. But it was his friendships that stand out with this appointment. Sr Tess Flaherty wrote of him: "you come close to being the gentlest person I have ever met. And you may know that my heart is burning in thanksgiving to God for your influence on my life and being." That was the story of his life. He had a profound impact on the lives of so many people with whom he lived, worked and taught.
In 2003 he moved on to the De La Salle University, Manadao, Indonesia. Mimi Taher was the Dean of the Faculty of Maths and Natural Sciences when Anthony arrived there. She was always very effusive about the way Tony worked with and supported, her to develop quality programmes. And the students loved him because, " he was very kind and spoke slowly, even though most of the time it sounded like a murmur, with an Australian accent. He was always there for his students, attended Mass every day of the week, and most of all, and through his simplicity and humility, touched the hearts of all." He is being fondly remembered by all in Manadao. I recently received a short video from his former students wishing him well in his illness and commenting on his smile. He was not well enough to see it.
Tony returned from Manadao to Bankstown in Sept. 2007, where he continued to work on his next project. As his physical condition deteriorated, he moved to No 16 Roma Ave in 2010. His teaching career had concluded, his passion for nature had not. In 2013 he completed his record of photos of native flora with Latin nomenclatures, a botanical breakdown of each flower, and the geographical location of each one. The result was a large 2-volume work of beauty and outstanding rigour in botanical research. He presented a copy of his work to the University of Sydney to be used by future researchers.
What a life well-lived in his commitment to teaching and to religious life! He was ever faithful to his initial commitment: " to go wherever I may be sent and to do whatever may be required of me". He did that without reserve. Wherever he was posted, he drew enormous respect from both students and colleagues alike.
His quest for knowledge never ceased. When the Light Rail was proposed for Anzac Parade, he followed its construction on the computer with the same assiduity he had brought to all his interests.
Our special thanks must be given to our nurse, Edelwina, Tina & Manuel, for the love and care they have given to Tony during his years in Karlaminda. It was so sad that they were not able to take him to Circular Quay on the new tram, as promised, and have a meal at the other end. He never forgot that promise. During his trip in the ambulance from POW Hospital to Sacred Heart Hospice with Sr Antoinette, he said: "there goes the new tram. Don't think I will get a ride on it so this will have to be second best!" His humour never left him. Our special thanks also to Sr Antoinette, who was with him all the way. For the wonderful care and attention given by the Dr and Nurses of both Prince of Wales and especially at Sacred Heart Hospice, we are sincerely grateful.
Tony was a man with a gentle nature and a generous heart, a friend to all who lived with him and worked with him. He was a loyal and true Brother of La Salle. We will all miss his companionship, his dry wit and humour, and his interest in everyone. Paraphrasing the words of the Founder: "I have tried in all things to do God's will in my regard!". May the Lord welcome you home with a loud 'Well done, good and faithful servant'.
May he rest in peace.

Reflection - by Br Phil Elwin
I had the privilege of sharing many experiences with Tony over a lifetime. We shared many interests. I am tremendously grateful for his friendship. I admired him greatly.
These are a few of my memories of Tony:
Tony Gaul. A man who....
Could pursue a subject to its most fascinating and complex boundaries. This was most evident in the exhaustive fieldwork he completed as a basis for his doctoral studies in geology. He mapped a large swathe of the igneous rocks of eastern central Victoria, between Wangaratta and Mansfield.
Had a profound interest in igneous rocks and volcanoes, stimulated by the years he spent trekking the flanks of Mt Taranaki and other volcanic regions in New Zealand.
Could traverse the trackless Victorian Tolmie Highlands on his own, having only a topographic map, an aerial photograph and a geologist's hammer in hand.
Had a sense of deep time, having immersed himself in deciphering the igneous intrusions and volcanic outflows of the Devonian period, the Age of the Fishes, over 350 million years ago.
Could teach himself computer science before taking up a teaching post in that subject in the newly opened university at Manado, Indonesia.
Could show Papua New Guinean trainees how to teach without any science equipment, by using what the bush, backyard and nature provided.
Could communicate and adapt his comprehensive grasp of a subject to the ability and capacity of his students and listeners.
Was a great companion and organiser of walking expeditions with the Brothers and students in Taranaki, New Zealand, and in Victoria and Tasmania.
Was as knowledgeable about Australian wildflowers, especially the bushland around Sydney, as about geology.
Was a great conversationalist, with his depth and breadth of knowledge, especially in a one-to-one interchange.
I was recently with Tony in the Hospice at Darlinghurst. He asked me to sit and do the talking. He was tired and bereft of energy. As I recalled the experiences we had shared together, he interjected. I listened, surprised. "Do you remember the four-day expedition the two of us did to Mt. Speculation? We sat in the long summer twilight on the top of Speculation, looking down into the deepness of the Wonnangatta River valley, the part they call the Terrible Hollow. A vast landscape. Lengthening shadows. We sat there in silence for well over an hour. God was there. Beyond words. Beyond time. Beyond comprehension. God is here."

We pray for Tony's eternal rest, for the Karlaminda community and for the Gaul family.