Posted by Miss Sharoon Mary on 4 June 2016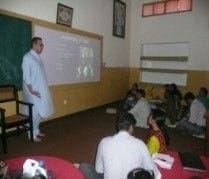 On 1st and 2nd June, Br Peter Ryan from Sydney organised a seminar at Alban's Boys and Girls High School in Multan on the Life of St. John Baptist De La Salle and the Lasallian History in the District.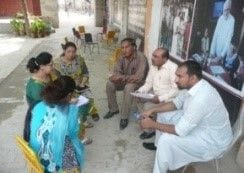 The teachers of Alban High school and La Salle Ahmedabad attended the seminar and they were divided into different groups.
Br Peter beautifully elaborated the birth place of De La Salle and why and how De La Salle started the mission of educating the poor children.
His main focus was on the teaching and implementation of St. La Salle's mission.
He explained about Classroom management for example, correction of students instead of punishment, which will be very helpful for the teachers.
He further explained the mission of De La Salle by engaging teachers in different activities.
He also spoke about the number of schools and Brothers communities in the district of ANZPPNG.
The school presented a cultural dress (shalwar kameez) and a beautiful card to Br Peter who wore the cultural dress on the 2nd day of the seminar.
Mr. Haroon Raphael ( Headmaster of Albans High School) and Mrs Farzana Asif (Headmistress of La Salle Ahmedabad) expressed their gratitude to Br Peter Ryan and Br Shahid Mughal.
The seminar ended with a beautiful group photo and all the participants sang and performed.
Teachers learned and enjoyed a lot over these two days.