Posted by Br Bill Firman on 25 June 2018
Living and working alongside 14 Sisters, 5 priests and 6 brothers, all of whom are members of diverse congregations that contribute missionaries on the ground in South Sudan to deliver the services of Solidarity, are 5 generous lay volunteers. These lay missionaries contribute significantly to the community life and ministry of Solidarity. Two of the four, lay missionaries join me in offering their unique perspectives on the current situation in South Sudan.
Recently there have been threatening situations in the areas around Riimenze and Yambio; but our ministry continues. We know what we do is respected by a grateful people. We are cautious but undaunted. Any fears our members may have are small in comparison with the local people. We know we are not being targeted while they live in fear of attacks on the innocent, and even reprisals, simply because of the tribe to which they belong or because soldiers are hungry. Some were attacked and looted last night in Riiemnze. It is unjust, cruel, inhumane, but that is how it is. That is the reality of life for many people. We can't change much now but we can provide opportunity and we can ensure the next generation will be better educated. We know our mission is important to the ordinary people.
All photos (except that of Allan) were taken by Paul Jeffrey depicting the people of South Sudan. Thank you, Paul.
Best wishes to all,
Bill
---
185. Three Perspectives
A. Hopeful more than Optimistic
A long time friend and colleague, Brother Peter Bray from New Zealand, took up his appointment as Vice-Chancellor of Bethlehem University, not long before I came to South Sudan in late 2009. Peter went to Palestine, dominated by an affluent, powerful country, Israel, and I came to one of the poorest countries on earth. When he wrote to me recently, I was struck by the obvious parallel of the struggling Palestinian people and the South Sudanese.
Peter wrote very insightfully:
'You went to South Sudan shortly after I arrived here....I hope you look back with great satisfaction on what you have accomplished over those years. Apart from what you have accomplished, however, is the fact that you have been prepared to stay there with those people through some difficult times. I take the opportunity when I speak to visiting groups who come here to thank them for coming because I believe the very fact that our students see them on campus is helping us keep hope alive here. I do that because I think hope is different to optimism. When the Palestinians look back over the last sixty or so years there is very little that leads them to be optimistic. However, for them to know that there are people outside this situation who have some understanding of what they are going through and are prepared to stand in solidarity with them is the source of their hope - that there are people who have not given up on them and that there is some meaning in what is happening to them. I think for the people you engage with, your very presence there doing what you can with the resources you have is helping keep hope alive there. I hope you do not underestimate the value of your presence among them, apart from the amazing things you are doing.'
At one of our Solidarity Board meetings, South Sudanese Bishop Erkolano stated simply:
'If the missionaries leave the people lose hope'.
There are much easier places to be, free from serious conflict and suffering, than South Sudan or Palestine. In neither place can we be optimistic about short-term 'fixes'. But by staying with the local people we bring them hope and opportunity. No I am not optimistic about early resolution of the situation in South Sudan. Murder, rape and robbery perpetrated by 'unknown gunmen' are far too common and rarely is there any retribution for such crimes. The situation in South Sudan is increasingly anarchistic and I sometimes wonder what is the point of endless peace talks between leaders who are not in control of the opposing forces they are supposed to be leading.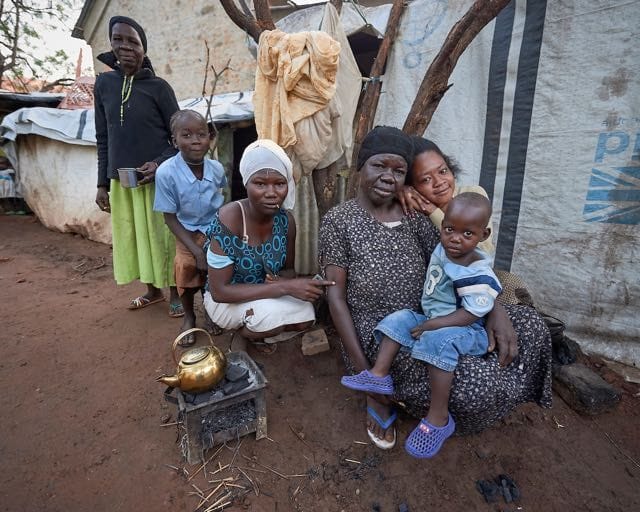 The real hope is in the next generation who will be better educated and better prepared for leadership. In educating registered nurses, midwives, teachers, pastoral workers, farmers, in standing in solidarity with them, in sharing their burdens and in offering relief where we can, we are apostles of hope. I salute my colleagues here in South Sudan who refuse to be diverted from their ministries by possible danger and threat of attack. 'Could you not watch one hour with me?' It was a call to all down the ages that they are heeding.
Two young Sacred Heart Sisters, members of a strong, local congregation, recently made their final profession. There may be fear and suffering here but there are always those prepared to dedicate themselves to helping others and rise to the challenge of providing opportunity. South Sudan continues to be a vibrant country with hopeful, joyful people. The needs are very great and many are hungry, but they are tough and patient. They are a faithful people who are aware that 'all things are passing" It seems to me that their strong faith creates more hope for the future than what I see in some better-resourced countries. Our sincere thanks to the many people and donors/ partners who enable us to be bearers of hope.
Br Bill

B. DO YOU BELIEVE IN MIRACLES?
It has been said that something of a miracle is occurring in South Sudan. While the entire country spirals into violence, disarray and insecurity, Solidarity with South defies the odds and continues to run a Teacher Training College and a Health Training Institute as Sudan well as an Agricultural Farm with virtually no governmental support at all. I work at the Teacher Training College. ( STTC)
For the past 10 years Solidarity has steadily and quietly produced an average of 20 to 30 certified teachers even though the rest of the country descends into chaos. Most other schools of this nature have closed but Catholic operated institutions refuse to be beaten. It seems nothing can stop these devoted and dedicated religious who see each and every situation as a challenge to be faced with the help of God. Not only is Solidarity able to keep the school open and running year round but they are producing teachers which are considered as very, very, well prepared. Solidarity graduates despite only receiving a certificate are actually being chosen by some institutions over others who have higher diplomas and even degrees. Word has spread that STTC alumni are very well trained indeed and know how to teach and manage a classroom.
Could you run a school with minimal government assistance? While peace talks corkscrew in a never ending series of reprisals, retaliations, and useless signing of documents, Solidarity maintains a staunch presence in the midst of horrible leadership and outrageous atrocities. There is no electricity, water, or other services and most government offices are empty or the employees who do show up for work don't care much. Solidarity must maneuver through this quagmire of bureaucracy to get even simple permissions and documents approved.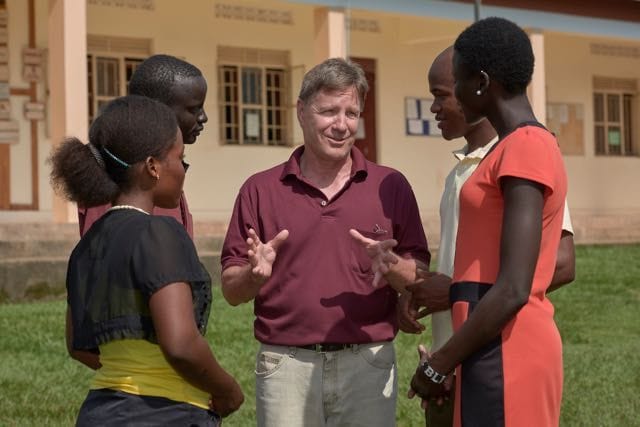 Could you run a school without a telephone? When the government shut down the largest cell phone operator in the country, it caused huge problems in communication. There is no functioning postal system in South Sudan. All messages are sent by email or phone. Solidarity sent out word of mouth messages and continued to operate, albeit with great difficulty.
Could you run a school without a bank? Yambio has not had even one operating bank for the past year. All transactions are done through "money changers". Money is hand carried into the country at times. It is then hand carried out to the projects. Even money that does go through Juba banks is difficult to withdraw. The bureaucracy is unnecessarily burdensome. Solidarity officials struggle to gain access to their own bank accounts. Priorities on what to spend money on are set as sometimes there is a cash flow problem due to banks resisting large withdrawals.
Could you run a school where the government does almost nothing for the infrastructure? Roads are in absolute disrepair with huge craters, erosion and broken bridges. We have roads that are almost impassable. In fact, Solidarity resides in a suburb called Naagori, which has one of the worst roads in the entire city of Yambio. Our vehicles must go over this eroded and denuded road several times a day to pick up supplies and run errands. In the rainy season our vehicles cannot pass as it is too dangerous and slippery. Not one government office has lifted so much as a finger in an attempt to fix it. On the bright side, there are hardly any traffic fatalities as the maximum speed one is able to get up to is about 35 km per hour due to poor road conditions.
On top of that there is increased insecurity on all roads. Almost daily one hears of highway robberies, killings, abductions and other atrocities on the road ways. Many times Solidarity personnel cannot travel due to the situation of unrest. Students must be flown in and flown home. Most roads are impassable. The STTC student body and staff regularly experience death of a family member due to this senseless violence.
The national Ministry of Education has not fulfilled a promise to revise the national curriculum. No textbooks came forth and nothing was said. Solidarity decided to create their own textbooks. STTC has written, revised, edited, published and produced classroom texts for seven subjects. All of this done on campus, in a small room, using only solar energy to power a copy machine, a heavy duty stapler and duct tape ( to serve as the outside binder). Several people spend countless hours revising, editing and re-writing the texts.
All this done in a city where there are hardly any supplies to be found. Prices have tripled in the past 6 months. When one goes shopping we must carry a large bag filled with money as inflation soars daily. With the economy in a shambles it is a miracle Solidarity is able to obtain the everyday supplies and materials it needs to operate this college.
As roads are closed and unsafe air travel becomes the preference and sometimes only choice. There are UNHAS flights but they are expensive. There are only three private South Sudan airlines who fly to Yambio They frequently cancel flights at the last minute leaving Solidarity personnel stranded at the gravel runway they use for the airstrip. These airlines will also close with no notice for weeks at a time. Travellers are often stranded in a remote place for much longer than scheduled.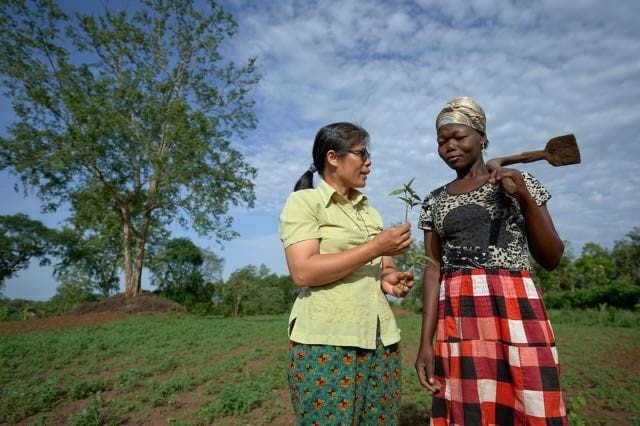 Recently the government, the military and the rebels have all shown an increasing lack of respect and concern for the Catholic Church and its members. The tension grows as the church staunchly defends the poor and oppressed. The government has shut down many media outlets and control the outflow of news. International journalists are so harassed by the requirements for permissions and authorizations that fwer are coming. Those that do come are told not to take certain pictures and not to discuss with certain people.
Overshadowing all of this is the on-going armed conflicts between the Government Soldiers of South Sudan (mostly Dinka) and the Soldiers in Opposition (mostly Nuer ). There is shooting and terrorizing all over the country with over 40 rebel groups currently identified. In Gbudue State where Solidarity operates violence is common. Many are the times staff are unable to travel on roads as there are reports of rebels or fighting in the area. Many the time Solidarity is advised to keep vehicles in the compound as rebels are looking to steal vehicles. Many are the nights and days when shooting or some other unnatural noises are heard. Almost every week there is a report of death that directly affects someone in the Solidarity family.
But God is good and the miracle cannot be stopped. All of this does not hinder the will or strength of the STTC staff members They are resolute. Solidarity bravely battles on against all the odds. These are a witness to the deep faith and commitment toward those who are suffering. They will never quit. They will never despair. They will never give. up. Solidarity stands shoulder to shoulder with the good people of South Sudan. They will always believe in God and in miracles!
Gabe Hurrish
C. Normal or Not
I was having a bit of trouble with my phone after it had been 'borrowed' for a few days (another story) so I went to the MTN office to try to sort it out. SS people light up when a friend they see, with loud hellos, shaking of hands and slapping of shoulders. It's a different story when you walk into a shop, or pass a group of men sitting on their motor bikes, waiting for a passenger. Sombre faces all round, as on a Melbourne train at peak hour. It was like that as I entered the MTN store. But it doesn't take long anywhere before faces loosen up.
After explaining my problem to the now smiling technician at the main desk, I was passed up the chain to a cleverer person in his own cubicle, and with a lower desk. In a chair next to this desk was a tiny girl, hair pulled into tightly knit plaits, the engineering of which mystifies me. She wore a bright yellow shirt, tiny blue jeans and a minute pair of yellow thongs, decorated with bright plastic flowers. They don't come much cuter than this little parcel.
Techo was baby-sitting her for a few minutes. She happily played with a bit of paper, while techo's face regularly broke into laughter as we discovered things that shouldn't have been, and I struggled to remember passwords which could only be retrieved by means of a code sent to my suspended Australian mobile number. Every worker who passed by waved at the little girl, shook her hand, or said a word to her. I smiled and she smiled back. I thought to myself:
"How normal are these people?"
I suppose it looks like a patronizing thought in print, but it was really a summary of my thinking which, expressed more fully, went along these lines:
"There are many thousands of people back in Australia who don't get the chance to see what I'm seeing now and, partly as a consequence, feel afraid of and prejudiced towards this mass of ordinary human beings, both in SS and in the countries they migrate to. It should not be so."
The mum comes into the room, sits the girl on her lap, kisses the top of her head, and chats to the workers. She's in her twenties, tall, black, attractive make that beautiful and spectacularly dressed in an orange/yellow suit with ankle length skirt, engagement and wedding rings, the western style wig which I don't admire, but which is another pointer to her being of the 'aspirational' class that a former Australian prime minister used to speak of. They have them here too.
She catches up with my problem, and offers to ring an even cleverer problem solver known to the others who enters the office five minutes later. It will be done by 11:00 am. These people could not have been more helpful, nor more normal for that matter.
I have just returned from Rumbek where I received another dose of normality. Do you still remember the commemoration ceremonies of 2014, recalling the outbreak of WW1? Armistice Day has been celebrated every year since 1918, but it is rare for conflicts to end so definitively that such a celebration can take place. A sudden outbreak of peace doesn't happen and, in truth, Armistice Day was a false dawn, a pause before the outbreak of WW2.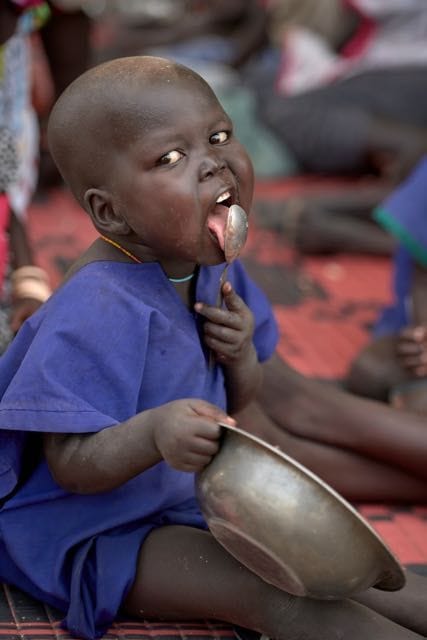 The Loreto school in Rumbek, and the new De La Salle secondary school there, are helping to bring peace to SS, but everyone involved realizes that there will be no sudden outbreak of peace. No particular day to celebrate its advent. There is just the day to day job of doing what is right, caring, living in hope and passing that spirit on to the students. The Loreto school is ten years old (Ten Years of God's Goodness is the slogan on the back of T-shirts) and has earned a reputation for top quality education in that time, and it has done so by setting standards and seeing that they are met.
The girls come in a range of shapes and sizes, which is normal. Some of them slump in their desks in the heat. Normal. They chatter like well! Like normal schoolgirls at recess. What struck me as a bit out of the ordinary is that many, if not most of them, want supervised study before school, after school and on Saturday mornings. They want to achieve.
All of this is due to the teachers who live on campus, the Loreto sisters past and present, and especially to Sister Orla, a cheerful, young beneath her years, Irish woman who has been at the school since it opened, and who is now the principal. She's a treasure but she's quite normal too. She likes a beer, sloppy clothes for the evening meal, and is adored by mosquitoes no less than by her students, though she reserves her kindness for the latter.
There have been killings in Rumbek in her time there, bit Orla and Co are doing their bit to bring peace to SS by doing ordinary things extraordinarily well, day after celebratory day.
How normal are all these people? You've got to love them.
- Allan Drummond