The Principal of La Salle Catholic College Bankstown, Michael Egan says some clear benefits have already emerged in teaching and learning at the school since it introduced a coeducational Year 7 class at the start of this year.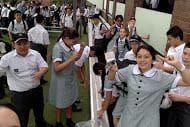 After a long history as a largely all boys school, the western Sydney school enrolled 35 girls in Year 7 this year, with plans to become fully coeducational by 2021.
Next year, coeducation will be expanded to Year 8 and Michael says the school has received additional funding from the Catholic Education Office in Sydney to upgrade its facilities to allow it to double its enrolments over the next six years.
He says the shift has proven to be incredibly popular with parents in the local area who were looking for a coeducational Catholic education for their children.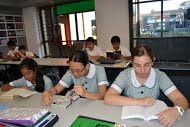 "It's led to greater enrolments from boys too because many parents were keen on ensuring all their children are at the same school", Michael Egan explains.
"The Year 7 girls have been engaged in all aspects of school life, from our opening mass at St Mary's Cathedral through to debating, school camps and sporting competitions which has been really encouraging".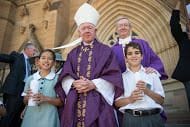 He believes there have also been some clear benefits from the shift towards coeducation in the classroom as well.
"Many of the girls are voracious readers and they haven't held back from letting us know what additional books they'd like to see on the school library shelves", Michael explains.
"This has definitely had a flow-on effect to enhancing the boys' literacy skills as well", he adds.
Assistant Principal Leonie Dowd has helped oversee the changes, having had extensive experience in girls education prior to joining La Salle College last year.
"We've made some subtle changes to the curriculum, by expanding the range of novels studied in English classes and in the Technology and Applied Studies classes, students now have the option of making a jewelry box, rather than just a tool box in the past", Leonie said.
The school has introduced a Solomon Class for gifted and talented students, dance has been integrated into the curriculum and the inaugural La Salle College netball team competed for the first time last weekend.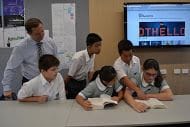 Leonie Dowd says the longer-term shift towards a fully coeducational school will greatly expand the subject choices available for senior secondary students.
"We're expecting a stronger demand for the Society and Culture course in the senior years and the St Yon Trade Training Centre will be broadening its courses to cover expanded places in hospitality and courses in hairdressing as well", Leonie explains.
"The long term impact on our school is a clear win-win situation for staff, parents and students".