Southern Cross Catholic College (SCCC) has signed a Memorandum of Understanding with the Lasallian Mission Council (LMC) to recommit to the Lasallian charism and vision for education for the next five years.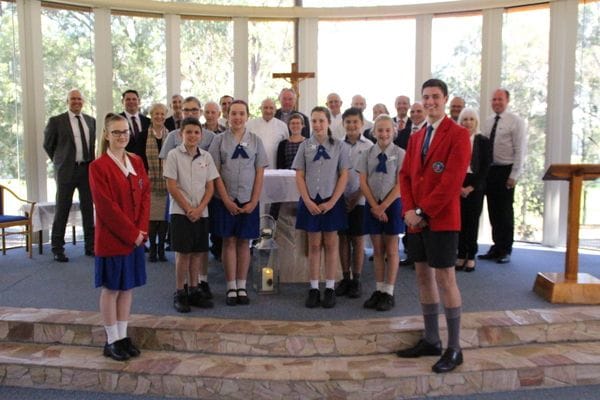 Originally signed in 2005, the Memorandum of Understanding formalises the relationship between the College, the De La Salle Brothers and the LMC.
The LMC provides spiritual formation, youth ministry and staff professional development to the College.
Southern Cross Catholic College is the only Lasallian Associated School in Queensland.
The Brisbane coeducational school was founded in 1995 and has a proud history as a multi-charism college, through not only the De La Salle Brothers, but also the Sisters of St Joseph and the Brigidine Sisters.
College Principal Mr Brett Horton said Southern Cross Catholic College lives out the charism and values of its founders, including St John Baptist De La Salle each and every day.
"Three hundred years ago De La Salle saw the need to educate all people, not just the rich," Mr Horton said.
"He wanted all people to grow in faith which in turn leads to service and which then builds community".
"This is something we do very well at Southern Cross Catholic College and will continue to do under the terms of this Memorandum of Understanding," he said.
Alongside Mr Horton at the signing ceremony was the Executive Director of the Lasallian Mission Council, Mr Merv McCormack and the Parish Priest of Holy Cross Parish, Redcliffe, Fr John Conway.
As a Lasallian Associated School, the College continues to have a close relationship with the De La Salle Brothers who live in residence on the College grounds and who regularly volunteer within the College community.
SCCC remains under the ownership of the Holy Cross Parish, Redcliffe where it is formally titled as a Catholic school of the Archdiocese of Brisbane and Holy Cross Parish committed to a Lasallian vision of education.
The College looks forward to the next five years where the Lasallian charism will continue to provide inspiration, direction and energy to all who walk through its doors.