Paralympians, judges and AFL footballers were among the talented graduates of St Bede's College Mentone, inducted into the Old Collegian Hall of Fame at a dinner last week.
The Melbourne Lasallian school has a long tradition of honouring alumni who have excelled across many different fields from the sporting field to the medical profession and the political and sporting arenas.
Seven new members were inducted into the Hall of Fame at this month's dinner in Brighton, including retired Federal Court judge Neil Young QC (class of 1969) and the Managing Director of Bendigo Bank, Michael Hirst (class of 1975).
Gold medal winning Paralympian Kieran Ault-Connell (Class of 1974) and Premiership winning AFL footballer Michael McCarthy (Class of 1974) were also inducted, alongside Chief Examiner of Victoria and AFL Umpire, Stephen McBurney (Class of 1985).
Professional golfer and winner of the 2015 PGA Nathan Holman (Class of 2009) was also made a new member of the Hall of Fame, as was Order of Australia recipient and former CEO of Australian Volunteers International Bill Armstrong (Class of 1950).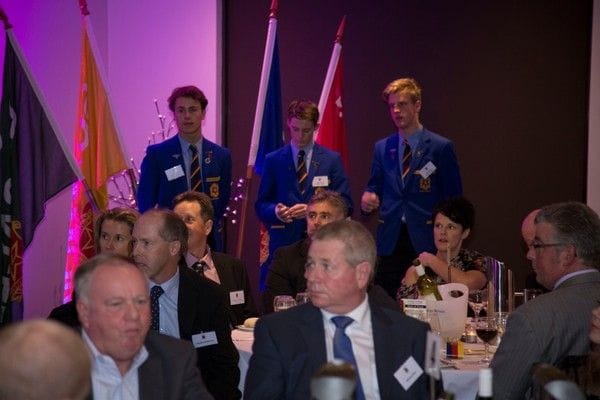 The current College leaders Michael Hurst, Joel Harriss and Bradley Shea presented the recipients with their awards and spoke about the ongoing Lasallian traditions at the school.
The Old Collegians all spoke highly of their teachers and reflected back on their fond memories from St Bede's College.