Posted by Martin Callanan on 24 February 2016
On a very hot and humid Tuesday morning in late February, sixteen Lasallians, who this year have commenced working in Melbourne's four Lasallian schools, gathered together at St Bede's College, Mentone.
The purpose of the gathering was to take part in the annual Catholic Lasallian Heritage (Level One) program- an initiative that has been coordinated by the Melbourne schools for the past eight years.
Quentin Smith led the opening prayer during which we focused on four major aspects of the life of St John Baptist De la Salle; The First of Many Detours; Call to Education; Christian Schools and Challenges and Setbacks. We then prayed together asking God to inspire us to bring out the best in others by being welcoming, generous and always positive in attitude. It was a lovely start to the day's activities.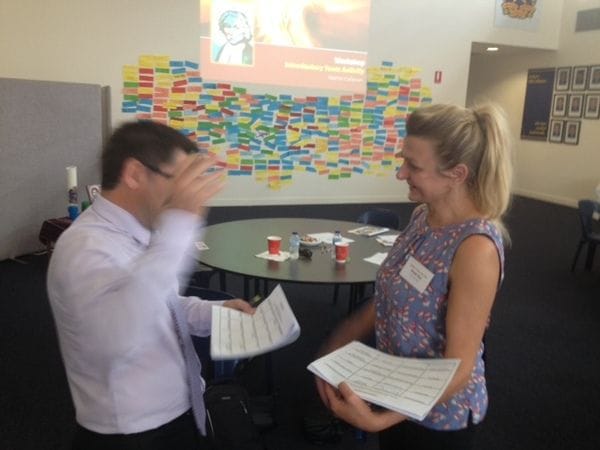 Following a few brief getting to know you activities which included "Lasallian Bingo" (now we know who has met someone famous, who snores and who really knows their Justin Bieber songs!!) we settled into the program itself. Brother John Cantwell presented a highly engaging account of the life and times of De La Salle.
Through the lens of a seventeenth century timeline with parallel events from the life of King Louis XIV, Brother John summed up the key points of the life of DLS in 40 minutes. If that wasn't impressive enough, the high scoring round of "Lasallian Pub Trivia" that followed ensured that everyone had listened to Br John and could answer the questions that followed his presentation.
Our pre lunch session consisted of two presentations; The Purpose of Catholic Lasallian Schools presented by Ria Greene which was followed by Mark Micallef providing us all with an insight into Lasallian Educational Values. Ria reminded us of one of the great pedagogical challenges of our Lasallian heritage which is to "touch hearts"; to build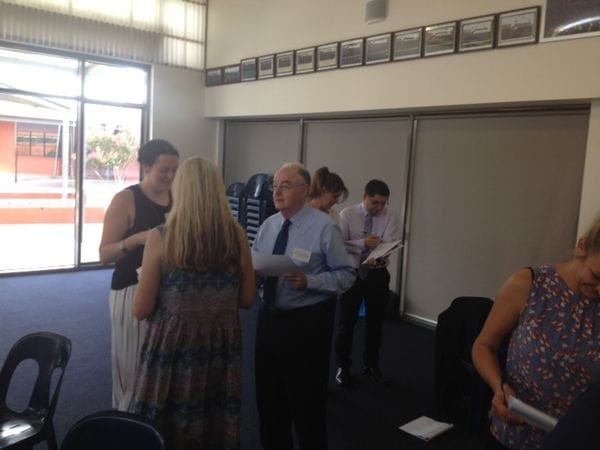 relationships with the young people in our schools and other Lasallian works.
Mark then built upon this ideal by highlighting the five Lasallian Core Principles. There was wonderful discussion in the room as the participants in the program shared their own thoughts as to where they see these five principles; Concern for the Poor; Faith; Education; Respect and Inclusiveness, evident in their own schools.
The heat wore on through the day and following a very tasty lunch, Br Garry Coyte was charged with the unenviable task of presenting the final session of the day; The Lasallian Network Together by Association.
As part of his presentation Br Garry emphasised the concept of "Association" by leading our group in role plays of various communities in which this concept is a cornerstone. Br Garry concluded his talk by placing the discussion into the context of the global Lasallian family and provided us with powerful examples of where "Together by Association" is evident in Lasallian works right around the world.
Another very successful program!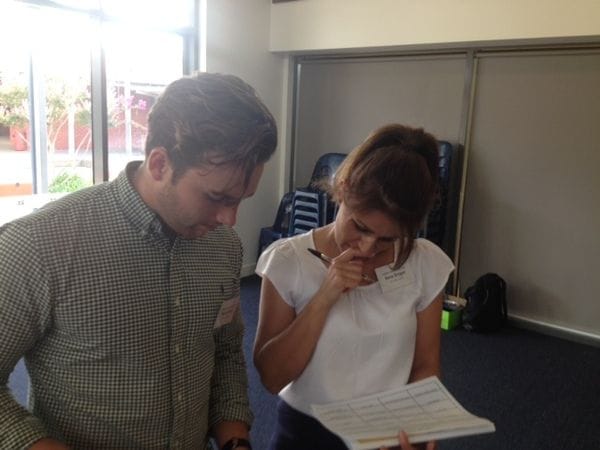 Our sixteen newest Lasallians will meet again throughout the year at St James College, De La Salle College Malvern and then will celebrate the conclusion of their first year with a dinner at St John's College in November.
Thanks to all the participants for their enthusiastic participation throughout the day. Thanks also to the presenters of the very informative sessions, Br John Cantwell, Ria Greene and Br Garry Coyte and also to Rana Brogan and Quentin Smith, Lasallian Facilitators at DLS Malvern and St John's, for their contributions to the program.
Particular thanks once again to Mark Micallef, Lasallian Facilitator at St Bede's College, who was a wonderful host and program facilitator throughout the day.