A group of ten Year 11 students and four teachers from St Bede's College Mentone are giving up a fortnight of their upcoming holidays to work as volunteers at a school for stateless children in Thailand.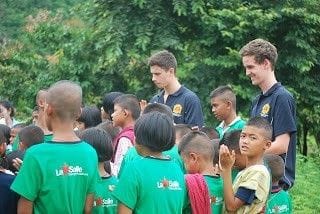 The annual volunteer program is run twice a year and is now in its fourth year at the Melbourne Lasallian all boys school.
The St Bede's students are compiling a blog about their visit from Saturday 18 June until their return to Melbourne on Monday 4 July.
The La Salle Parmenie school is located on the border between Thailand and Burma and educates around 360 children aged between 4 and 18.

The school has been providing a free education to stateless children for nearly ten years and a small box of milk and a hot meal for lunch.
For many of the students, this is the only meal they receive each day.
The St Bede's students and staff have been playing a pivotal role in building projects at the Parmenie school over recent years.
During a visit earlier this year, a group of St Bede's students laid the foundations for a new dining area during a period of torrential rain.
In the lead up to the visit, the Melbourne students undertake lessons in Thai language and culture which helps them prepare more effectively for what is a life-changing experience for many of them.
Year 12 students also have the opportunity to undertake a volunteer program in India each year.
Earlier this year, a group of senior students used some of their summer holidays to help rebuild homes in the disadvantaged Tamil Nadu state.
The programs are all made possible through the generosity of student donations through annual mission action fundraising activities at the college.