Senior students from St James College East Bentleigh have experienced daily life as volunteers in a remote Indigenous community in Western Australia through a rewarding immersion trip this month.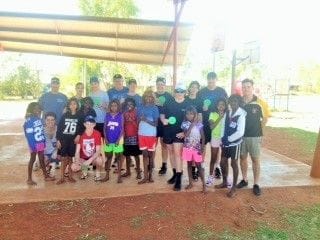 Eight Year Ten students and four staff members from the Melbourne all boys school volunteered for several days at Luurnpa Catholic School in Balgo Hills, helping in the classrooms and with bush excursions and sports carnivals.
"The students gained so much from listening to the Elders from the local community sharing their stories, joining them on an excursion hunting for frogs and swimming in Lake Gregory", explained one of the staff members on the trip, the Lasallian Facilitator at St James College, Mr Martin Callanan.
"On the second last night of the trip, we shared a communal dinner with members of the Balgo community during which the boys expressed their thanks after receiving such a warm welcome".
The Lasallians have had a strong, historic connection to Balgo Hills which stretches back to 1984 when the De La Salle Brothers helped establish the Luurnpa Catholic School.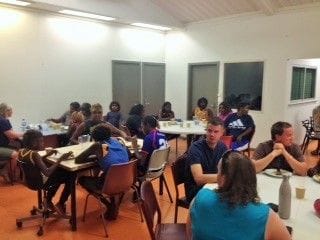 The Lasallians have worked closely with Indigenous Elders to provide primary and secondary education to generations of students in the remote community.
The Brothers also established the Kutungka Trade Training Centre in Balgo, providing strong pathways to employment through vocational education programs targeted at the needs of the local community.
The Lasallian connection to the school continues today through the work of a group of Share the Mission volunteers who are all graduates of Lasallian schools in Sydney and Auckland.
Senior students from a number of Lasallian schools around Australia also undertake immersion visits to Balgo Hills each year.