On the 24 April, St Michael's College was invited by the Archdiocese of Adelaide to attend the ANZAC Eve Vigil Mass held at St Francis Xavier's Cathedral. In attendance were representatives from the Australian Defence Forces, members of Parliament and staff and students from Archdiocesan Colleges around Adelaide. Students from the Year 12 leadership group attended and participated in booklet handouts and giving out carnations at the conclusion of Mass.
Once Mass had concluded, students and staff participated in a procession to the War Memorial on the North Terrace where the carnations were placed in honour of the fallen soldiers.
Below is a small reflection from student Ashwini Fredrick: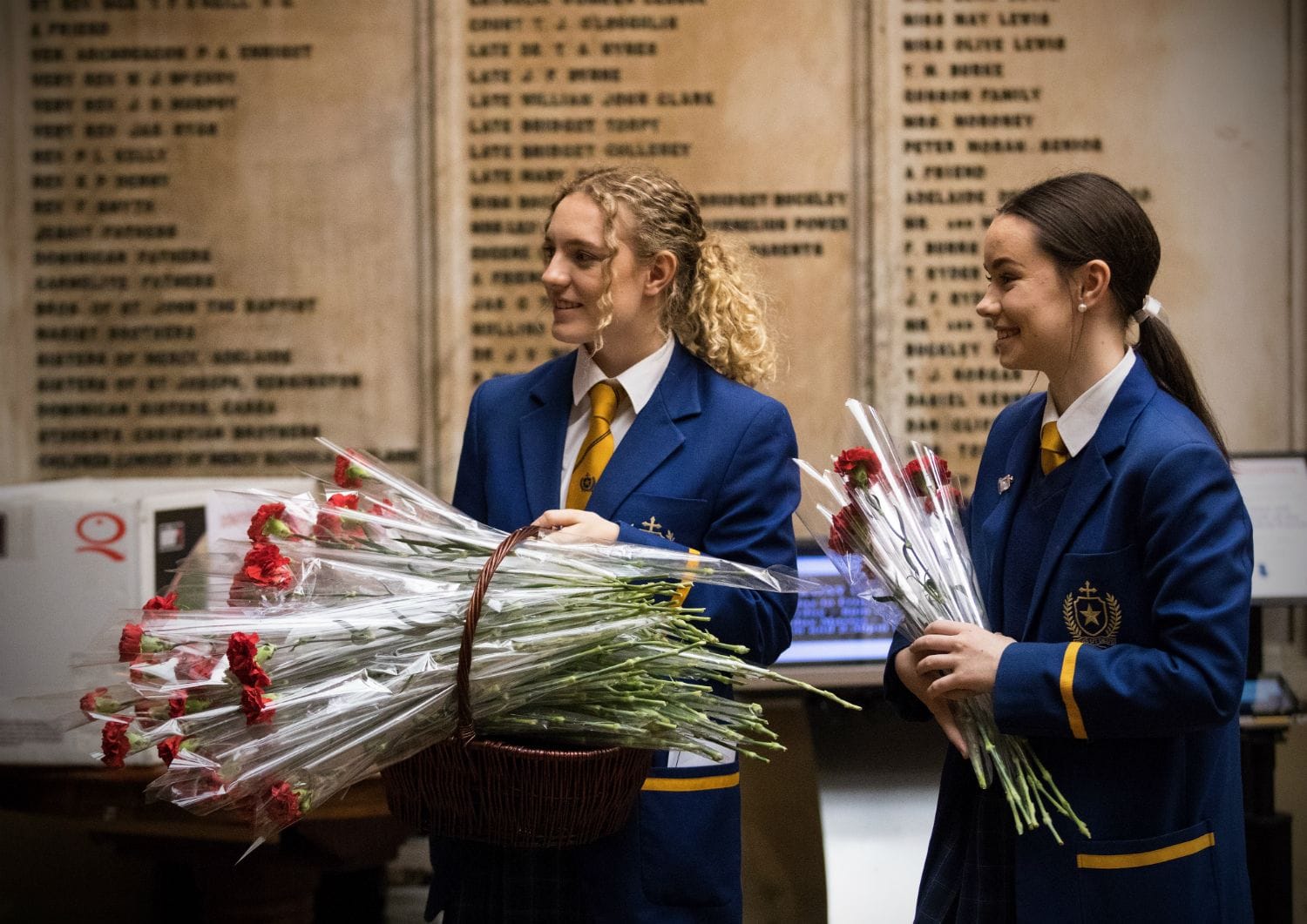 Over the holidays, I was very fortunate to attend the Anzac Day Vigil mass at the Cathedral along with a few other college leaders. The mass followed by a procession to the War Memorial on North Terrace. It was a very moving occasion as it commemorated the lives of those who sacrificed themselves for their country. Seeing everyone come together and help those who have lost a loved one in war to honour their lives, reminded me of how fortunate I am to be part of this beautiful and supportive community. Especially hearing College Captain Nick Snow's speech about his grandfather enabled me to understand the struggles that a soldier faced in the war, which is something that I have never thought about before. Overall, the Anzac Day Vigil mass was an awe-inspiring celebration and I hope to be a part of it again next year.
Nicholas Snow, College Captain, was asked to write an ANZAC reflection and presented after Communion:
"Almost 103 years ago, 8,708 Australian soldiers died on the beaches and in the hills of the Gallipoli Peninsula, fighting under the Rising Sun of the Australian Imperial Force, and in the name of King George V of the British Empire. Of these near-9,000 men killed, my great-great-grandfather, William Arthur Snow, was one of them.
Like most South Australians, he fought in the 16th Battalion AIF, as a part of the 4th Brigade commanded by Colonel John Monash. On April 25th, the 4th Brigade landed on the northern beaches of the Gallipoli Peninsula, an area that would soon be known as ANZAC Cove. The Old Sixteenth was sent up a hill later named Pope's Hill, after their commanding officer, Lieutenant Colonel Harold Pope, where they dug in and fought for 5 long days, surrounded by Turkish troops. On the nearby Russel's Top, Turkish snipers had captured the area and continuously fired upon the stranded Australians, resulting in heavy casualties.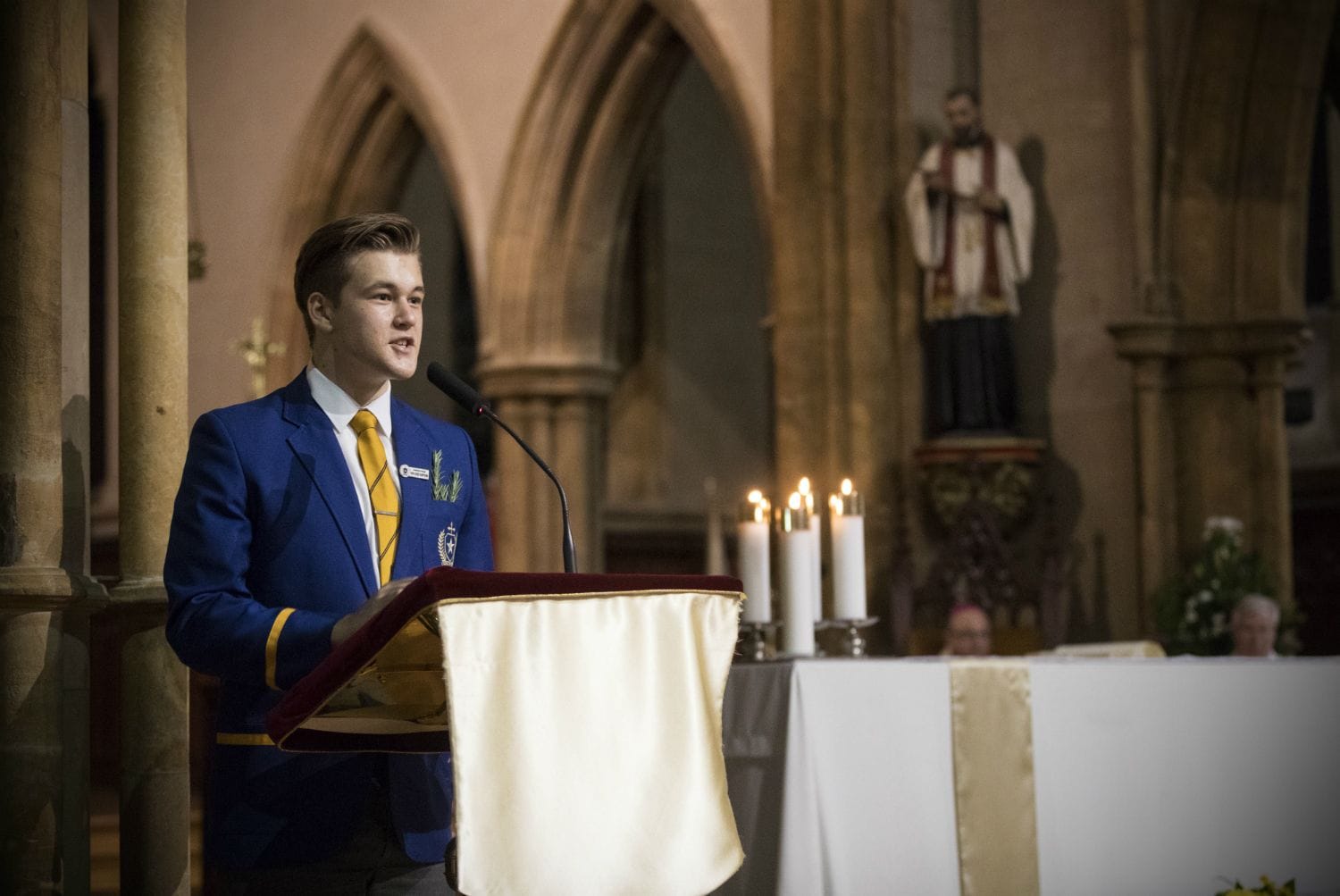 After 5 days of fighting, the 16th was relieved by the 2nd Battalion and moved to a rest camp where, over 2 days, they suffered over 50 casualties from enemy fire. They were then called up to fight at Bloody Angle, an exposed hill where they dug in before being called out of their trenches to attack the Turkish troops and were met with heavy gunfire. They were withdrawn from the frontlines where a roll call revealed that, on the night of May 2nd alone, the 16th Battalion AIF lost 340 men.
Upon landing eight days earlier, the 16th was near one-thousand strong. Now, on May 3rd only 299 men answered their name at roll call.
Somewhere amongst the near-9,000 Australian troops that died during those intense months of combat lies a member of my own family. Like me, many of us here have a family member from generations ago that gave the ultimate sacrifice, whether it be in ANZAC Cove, the Somme, Ypres, Passchendaele, or any other conflict. However, these men and women live on through the ANZAC Legacy of mateship, courage and resilience that moulded both Australia and New Zealand's national identities.
Each of these soldiers was an embodiment of the ANZAC Spirit, and will be remembered for generations. However, even after all the stories are told, poems are read, or songs are played, we will never fully understand what each of these soldiers endured during those years, yet we ensure their sacrifice is never forgotten, and strive to prevent future conflict.
As well as these soldiers, we acknowledge all Australians that have fought in conflicts across the globe including the Second World War, the Korean, Vietnam and Gulf Wars, and the Iraq War. We also acknowledge all Australians that have fought in ongoing wars such as the Afghanistan War and those part of the Combined Joint Task Force involved in Operation Inherent Resolve against ISIL. We also thank all other members of the Australian Defence Force that have not faced combat and those that are here with us this evening.
Last ANZAC Day, Sapper Curtis McGrath spoke at the Australian War Memorial Dawn Service, where he said "On this Anzac Day, we look back on a century of courage, endurance, mateship and sacrifice. We honour those who have died and suffered through the old and the new wars. And we thank them for all they have engrained in our nation's heart and way of life." Much like on that ANZAC Day, we will do the same tomorrow and for each to come. "
Thank you to the Archdiocese of Adelaide for inviting St Michael's College to such a special event and involving the students. Thank you to the staff and students who attended and represented the college with great pride.
Lest We Forget.
Calia Sandona and Scott Hanel
Lasallian Youth Ministers