Staff from Catholic schools in New South Wales and Queensland say they have gained a lot of useful and practical insights into Lasallian spirituality through a formation program offered this week at the De La Salle Provincial Office in Sydney.
The theme of the Lasallian Spirituality for Educators Course focused on "The Mercy of God in Educational Practice" with participants drawing upon Pope Francis' writings in the Year of Mercy and then drawing practical lessons from them in their day to day work in schools.
The program was also enhanced by the involvement of De La Salle College Caringbah Principal Christopher Agnew who delivered an excellent presentation on restorative practices in schools.
De La Salle Caringbah has been a pioneer in these practices which focus on developing positive relationships between students and teachers in an environment where students are encouraged to take personal responsibility for their own behaviour and to reflect upon the impact their choices have on others.
Teachers from Oakhill College, De La Salle College Revesby, Casimir College, La Salle Academy in Lithgow and Southern Cross Catholic College in Brisbane all praised the two day course, saying they are looking forward to implementing new strategies in the classroom.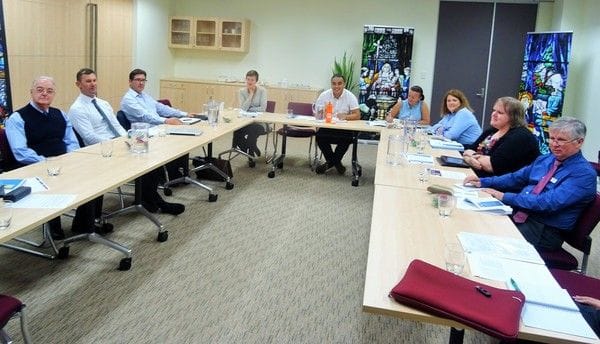 "The two days allowed a novice Lasallian of two and half years like me to open my eyes to the beauty of this charism and to cultivate ideas and practices that I will take back to school with me that will enrich my teaching", explained one of the course participants.
"I felt it was a really worthwhile course that reminded me of how spirituality can be lived out in the everyday duties of a teacher", explained another participant.
"It reinvigorated my sense of faith and vocation of teaching".
Participants were issued with a Certificate issued jointly by the Broken Bay Institute and the Gerard Rummery Institute, in a reflection of the high standard of the program.