You can enjoy a fun day out at the Caulfield Racecourse while also supporting the Lasallian Foundation and its aid projects across the Asia-Pacific region at the upcoming Melbourne Racing Club (MRC) Race Day.
The Lasallian Foundation is one of 13 local charities supporting the family event which will be held on Saturday 17 September from 12pm-4:30pm.
Funds raised through the event will help ensure that primary school students in countries such as Papua New Guinea and Sri Lanka will have greater access to good nutrition, school books and other learning resources.
The Lasallian starfish mascot will be competing in the 100 metres Clip Clop race and there will be lots of other fun activities for families, including jumping castles, face painting, music and an animal farm.
A $35,000 prize pool will be shared by the charities who draw the top three horses in the MRC Foundation Cup Race.
Tickets are reasonably priced with General Admission at $25, Concession $10 and all children under 14 enjoy free admission.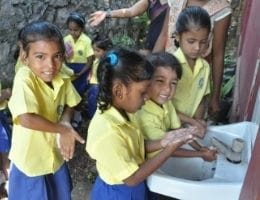 You can find more information and purchase tickets through the Lasallian Foundation website or through phoning their Melbourne office on (03) 9508-2700.
The Lasallian Foundation is also looking for volunteers to help with a stall set up to collect donations and raise public awareness about the great work that the charity is involved with.
If you would like to help across two shifts (11:30am-2:15pm and 1:45pm-4:30pm) on the day, please call the Foundation's office on (03) 9508-2700.