Posted by Br Bill Firman on 26 January 2016
'Despite the hardships and so many challenges they face, war affected communities show an extraordinary resilience. This, together with their faith, helps them to cope with the daily struggles'.
So wrote Comboni Missionary from Brazil, Fr Raimundo, after his return from celebrating Christmas in the UN POC (Protection of Civilians) camp in Bentieu, the war ravaged capital of Unity State. Fr Raimundo was the parish priest in Leer, also in Unity State, before the conflict broke out in late 2013. So he was reconnecting with many of his former parishioners now taking refuge in the camp. It is a moving, positive account illustrating the extraordinary ability of the people of South Sudan to find joy where many of us would see only misery.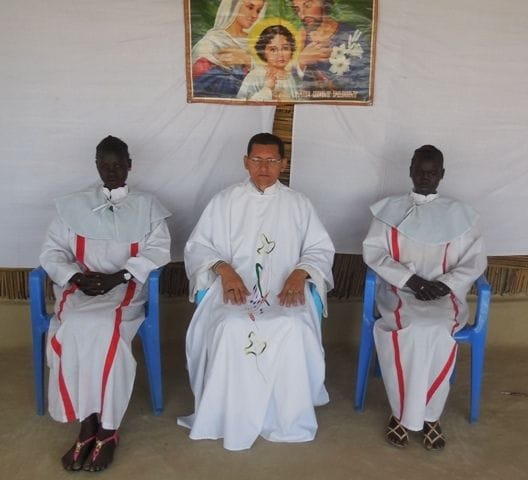 The people here long for peace but there are many impediments to overcome. A critical issue is law and order. We no longer travel on some roads between towns that once we considered safe. Whereas once almost all of our students travelled by road, the frequency of ambushes has forced us to assess it as now too risky. So staff and students have to fly.
Only a few days after Christmas, our house in Yambio was invaded by five armed robbers. This became an international news item. The unsettled situation in Yambio eventually led to our cancellation of the eight week in-service programme we had planned to deliver there in January and February. The local people have since expressed their outrage and strong support. It is very clear they want us there. One Sister remarking recently, 'Such was the reaction of the people that we now actually feel more secure.'
Unfortunately, after a couple of quiet weeks, there was more violence in Yambio for a few days last week. It has now become calm again and we still plan to begin pre-service on March 14th. Of course we need relatively stable conditions before bringing teacher training students back to the campus.

In our health-training institute in Wau, a record number of students - 109 are now in residence studying to become registered nurses or mid-wives. It is a sad truth for some that they feel more secure in our CHTI than in their homes areas. But, of course, all still worry about their families.

Sr Annette of our pastoral team, assisted by two Arabic-speaking local catechists, recently delivered a successful programme for catechists in Maban, where there are 120,000 refugees from Blue Nile State, living in UN camps. This same team was to go to the diocese of Yei this week to deliver another programme. But the programme had to be cancelled when the Diocese could not get any of its deposited money out of the Equity Bank. The bank staff went on strike demanding pay rises. Strike action has been rare in South Sudan but may become more common. A strike by air traffic controllers closed the airport recently. They were protesting that they had not been paid for four months!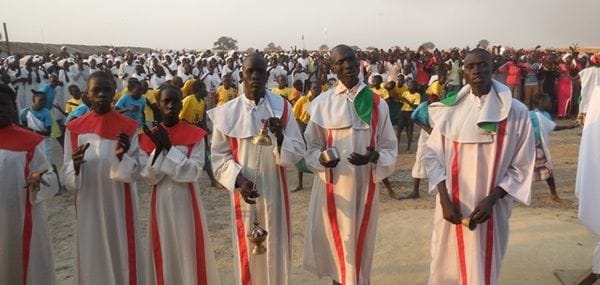 At the end of last year, the South Sudan currency was finally devalued officially from USD 1 = SSP 3.16 to USD 1 = SSP 18.5. Unfortunately that has not solved the economic problems. There is simply a great shortage of dollars. The current low oil price, plus money wasted in war, has had a devastating effect on the South Sudan economy. The country has no tourism industry. It is really only the UN agencies and NGOs bringing dollars into the country. Some local businesses that need to buy their raw materials from outside of South Sudan are going out of business. As one writer stated:
'Producers, as opposed to traders, are in a particularly difficult position because South Sudan is an import economy, which means that they require hard currency to make their purchases abroad.'
For the past week the unofficial exchange rate has been rising by SSP 1 per day. Today it is USD 1 = SSP 24.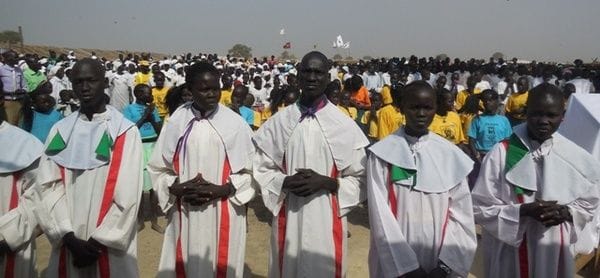 Last Friday was the deadline for establishing a transitional government. It hasn't happened. Will it happen? I think so eventually! The international community has said it will no longer pay the hotel bills of the negotiating factions. The South Sudan Government has now said it will which means someone else will not get paid! The good news is that there is no money left to continue a pointless war!