Posted by Jordan Grantham on 13 December 2018
By Jordan Grantham

De La Salle Secondary School, Bomana was recognised this month as one of Papua New Guinea's best schools for academic performance, just one year after the Brothers returned to the school's leadership.
The PNG Secretary for Education, Dr Uke Kombra, gave the school a Certificate of Recognition on 7 December 2018 for the Year 10 class' top academic results, coming 11th out of 178 secondary schools in the country.
The is a dramatic turnaround from a 20-year downward trajectory for grades, discipline and facilities after the Brothers left in 1992, having established the school in 1956.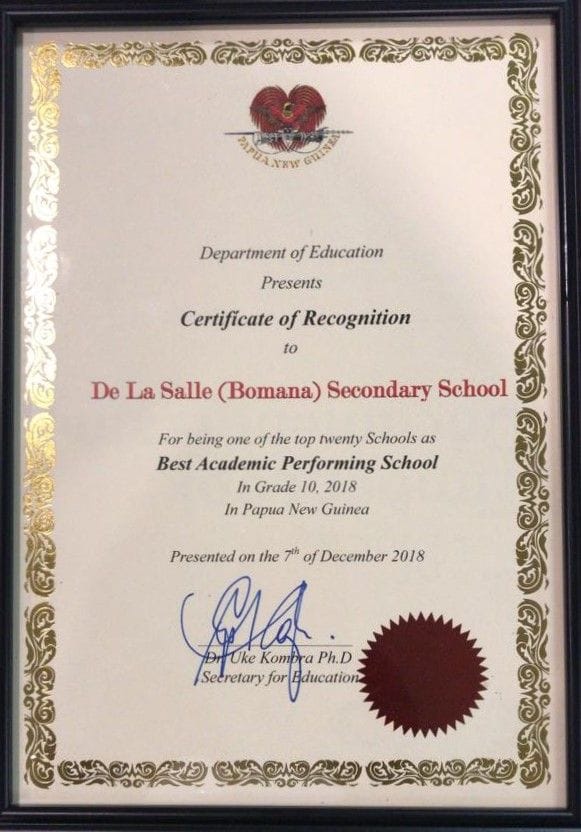 The De La Salle Brothers returned to school leadership this year at the request of Cardinal John Ribat MSC, Archbishop of Port Moresby and Br Antony Swamy has served as Principal since the start of January 2018.
A De La Salle Brother for 18 years, Br Antony was inspired by their educational ministry and joined 18 years ago from Susaiappar Pattinam, in Tamil Nadu, India. His educational philosophy is to transform the lives of young people and he is achieving that at De La Salle Secondary School, Bomana.
"We are passionate about their lives and their future and want to give the best," Br Antony said.
The wider community was aware of the declining standards at De La Salle Secondary School, Bomana, once known for giving an outstanding education and producing some of the prominent figures in Papua New Guinea's public life.
It was time for the De La Salle Brothers to roll up their sleeves and return the school to its Lasallian values.
"There are moral, spiritual, academic and behavioural needs in this school, that's why the Cardinal requested us to come and help clean up some of the mess," Br Antony said.
"We are happy to give time, energy and use our experience to do what we can to help our young men attain quality education.
"We have made some changes in the school infrastructure and students' discipline and their academic performance."
The school community is delighted at the results.