Brother Christopher Gorringe died at the Sacred Heart Hospice Darlinghurst on Monday 13th April at 9:30 pm (local time).
A Mass of Thanksgiving in memory of Br Chris Gorringe was held in the Chapel of the "Parmenie" Community on Thursday 16th April at 10:30 am. The Mass was celebrated by Father Chris McPhee MSC Provincial with only the local community present. Click HERE to watch the recording
The Commendation and Rite of Committal took place at 1 pm at Oakhill following the Mass. Due to COVID-19, only the ten persons nominated by Br Chris were in attendance.
When COVID-19 disappears, and the restrictions are lifted, a Memorial Mass will be held to honour Br Chris.
Chris is survived by his sister and brothers; John, Anthony, Anne, Joseph and Gerard. To them and to their families we extend our deepest condolences. Contact details for John Gorringe, are as follows:
Email: johngorringe@bigpond.com
Mailing Address: PO Box 5375 Stafford Heights QLD 4053
Click HERE to view the announcement of Br Chris' passing
Click HERE to view the Memorial Booklet from the Mass of Thanksgiving
Click HERE to view the Memorial Booklet from the Commendation and Rite of Committal
Click HERE to view Br Chris' Curriculum Vitae / Ministry Appointments.

Welcome given by Br David Hawke, Br Visitor.
In late March Br Chris was admitted to St Vincent's Hospital, Darlinghurst. He was allocated a four beds' ward in the public hospital. He found this ward rather trying. However, due to the kindness of the nursing staff, he was allocated a single room later in his stay. Upon visiting him on his first day in his own room, I found him as happy as a kid in a toy shop.
It was on that day that I discussed with Chris this day. It was on that day that he nominated the ten people to be present today. It was on that day that his Maths was not as perfect as it had been in the past and he had difficulty getting the ten right even though he counted on his fingers! It was on that day that he shared with me about those who could not be present due to the circumstances our country and world is experiencing at this time. It was on that day I realised that Chris, under usual circumstances would have had a huge funeral. However, we all know Chris would not want a fuss made over him and we remember that today as we celebrate his life and entry into eternal life.
We are reminded in the Order of Service that "we are gathered today in this sacred place, the final resting place for many of the Brothers." While Chris lived and worked in several places across four States and the four countries of our District and beyond, particularly as Acting Visitor, Auxiliary Visitor and District Bursar, his Lasallian connection commenced here when he was a student at Oakhill College. Having been formed as a Brother and being a Principal and Board member here, Oakhill remained special to him for his entire life since those student days.
I welcome each of you here as people who have loved and supported Chris and whom he loved. While not physically present I welcome Chris' siblings Anne, John, Anthony, Joseph and Gerard who are with us in spirit and all those people out there who are praying for his eternal rest today.
Reflection on the Readings, given by Br John Cantwell
As far as I know, Chris didn't say why he chose these two short readings from Scripture [Rm 12.3, 6-11; Mt 5.1-10]. It would be highly uncharacteristic of Chris to suggest that they were about him. I think they are, but they're deeper than that, and of course Chris always knew what he wanted to say.
As we all know very well, Chris spent some years here, as Principal of Oakhill College. He also went to school here, but it's much bigger now. For some twelve-year-olds, arriving here for the first time must be rather overwhelming. A principal could exploit that. He could tell them in menacing tones that they were here to work hard and to behave themselves, and if they ever saw him face to face, it could only mean trouble.
It's characteristic of the glorious enigma that is Chris Gorringe that his welcome to Year 7 students went straight to a twelve-year-old's heart. Over the first few weeks, at lunch time, he'd invite them in groups into the Holy of Holies, the Board Room where the High Priests of College Governance gather. He'd sit down with them and feed them Maccas.
Chris had the gift of anticipating the feelings of the youngest members of the College community; and the creativity to transform any apprehension into a real sense of being welcomed. He could work that sort of transformation at District gatherings too: presenting stark realities in a way that made them easier for us to understand and cope with. I think our two readings point in that direction: of transforming life into something even better.
In the reading from Matthew the list of people we are supposed to believe are really blessed the poor in spirit, and so on is preceded by what Chris would no doubt call an executive summary of the ensuing five chapters. It helps us understand why, for example, people who are being persecuted for doing the right thing are blessed like nurses being spat at on trains because they could be Covid19-carriers.
The little summary points out that Jesus is to be, and to explain, God's loving and transforming presence among us. Jesus is that by healing people physically, mentally and socially. He explains it, not to big-note himself, but to draw people's attention to God's active presence among them, in the midst of life's ups and downs. The poor in spirit, mourners like ourselves, those who are attacked for doing the right thing they are the ones who are helping to facilitate God's gradual transformation of a world which can be so turned in on itself but which we know is often enough moved to look out for others. The nurses, doctors, their receptionists, the check-out people, bus drivers they all continue to serve on the front lines, despite the current risks. We think too, of Sister Antoinette, of Peter and Thao Cartwright, of Brother David who have cared for Chris in his final weeks, and all of you who have been Chris' very supportive friends over the years.
Our other reading, from Romans, has St Paul assuring us that we're all gifted in different ways. To preface that, Paul expresses his profound awe at the depth of God's generously shared riches and wisdom, from which all our own gifts flow. And he tells us to embrace our gifts and, together, to use them in the service of God's ultimately unstoppable transformation of life in our families, our workplaces, our schools, our society. That list of gifts includes leading and ministering as Chris did so effectively and teaching, as Paul says diligently, generously, compassionately, cheerfully.
Chris eating Maccas around the Board table with groups of newly-arrived Year 7 boys remains for me a delightful facet of his giftedness. We miss him, but we pray to believe that Chris can now, with a generous God, rejoice in all he has done for so many young people, and for us.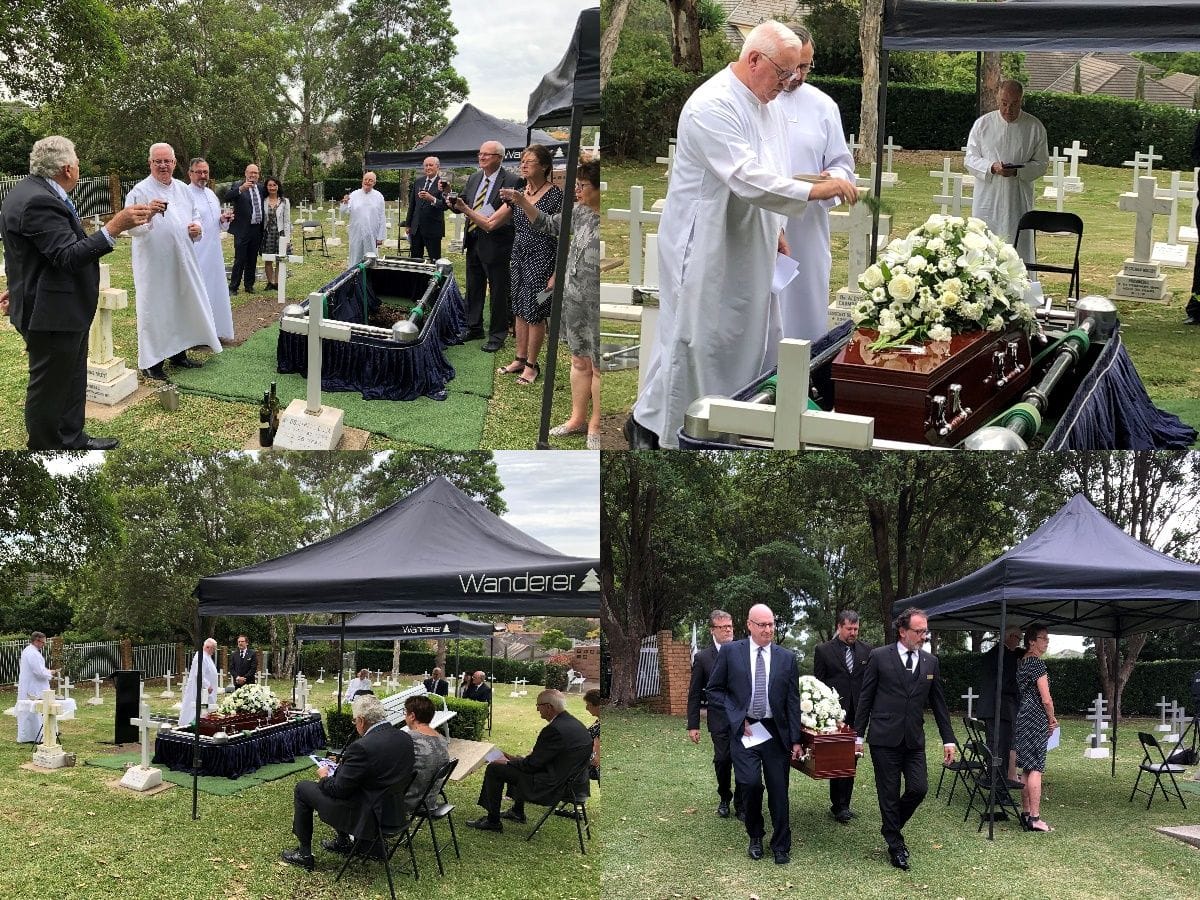 A few Words from Around the District
"I had the pleasure of meeting Br Chris on several occasions, a delightfully positive and energetic man who always had a great story to share. The quote that he chose for his memorial card really sums up his devotion to his faith perfectly."
"I enjoyed working with him immensely - hard-working, intelligent and at times, incredibly stubborn! We had some robust discussions but became good friends. He visited our home on several occasions for meals and we enjoyed his wit and humour."
"I give thanks for the wonderful gift that was Brother Chris. Your correspondence and statement beautifully summarises the amazing person he was and the work he continued to contribute until the very end. We can all learn a lot from Brother Chris."
"Knowing him for nearly ten years and sharing lots of jokes and laughter, laughing with him and at him, we're all going to miss the red pen! and his unique uproarious laughter throughout the office."
"A real loss for the District and Institute. We were enriched and blessed by his presence in our lives."
"We have lost a great man. It was a privilege to know Chris, to learn from him, to relish his spirited company. We will miss his corridor banter and unmistakable laugh, quite often at others' expense, and rather regularly, mine. His many talents will be sorely missed."
"A sad moment for us, learning of the passing on of a dear brother who has been a pillar of hope and energy in the early stages of Sacred Heart Teachers' College (SHTC). Br Chris is remembered for his pleasant sense of humour, humility and lively character."
"An awesome lovely and lively person, lost to us, as heaven rejoices in receiving him."
"We recall Br. Chris as full of Life and Charisma. And therefore, with that, we give praise and thanks to God for his life- a life lived in full, a life given to serve God as a De La Salle Brother. A life that has touched many hearts here in PNG too."
"It is a great loss for the District as his presence and contribution in all fronts shaped many of our works and operations."
"It is indeed sad news to hear. He was a great inspiration to the young brothers in the District."
"A great man has left this earth."
"Be satisfied with what you can do because God is satisfied ... but be assured that with the help of God's grace you can accomplish more than you can possibly imagine."