Posted by Mr. Otto Wendt, Debating Head Coach/Teacher, DLS Mangere (edited Br Gary Wilson) on 13 September 2021
Teachers love to see their students thrive. Healthy scepticism was wiped in 2018, when De La Salle's Year 9 students answered the call to debate. With Franco Dejoya, Lasallian Volunteer, three junior teams were formed. It was a historic moment for our school being the first time we had a junior team break for the octo finals of their respective debate competition.
The following year, history would repeat itself, with one of our junior debate teams making it to the quarter finals of their competition. A massive achievement and a testament to the dedication and commitment these students had for the oratory art, that is, debating. That same year, we had 3 orators place in the top speakers of their competition – Nathaniel Siaosi 10th best speaker, Gabriel Toreja 6th best speaker and Jarren Iuvale 4th best speaker.
The success of these students saw debating grow within the College. In 2021 there are 9 debate teams, with 37 students. It includes 4 junior open debate teams, 2 senior open debate teams, 1 advanced opens debate team and 2 premier advanced debates in 2021. In a competition that hosted 350 teams from over 60 schools, this is a phenomenal accomplishment for these students.
Debating has a connotation for being somewhat 'elitist' and for "smart, rich kids". The group of Year 9 students who joined that fateful lunchtime in 2018 have helped to smash this deficit-thinking around debates.
The art of oratory is inherently built in their blood as Pasefika youth. The debate teams' continued successes are proof that it does not matter where you come from, if you have heart, anything is possible. Debating has been able to grow and thrive at our college thanks to the support, dedication, and commitment of our Lasallian Volunteers over the past few years.
The art of oratory is inherently built in their blood as Pasefika youth. It does not matter where you come from, if you have heart, anything is possible.
Franco Dejoya, Andy Carlos and Nathan Pellizzari have been instrumental in helping De La Salle College debating become what it is today.
Fostering the Lasallian value of brotherhood into the team has become the foundation on which the De La Salle debating is built.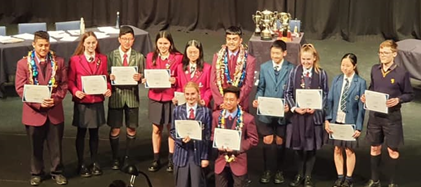 This year we saw a historic first with our Senior Opens teams – Tauma Ekeroma, Derek Filimoehala and Dice Taupau (ranking 3rd)/Aidan Amoa, Palamo Felise and Isaiah Poe-Fuimaono (ranking 11th) break into the top 16 for their competition. Our Advanced Opens team (Justin Sharma, Nihil Gosai, Mason Poe-Laulu and Xavier Vito) went their entire season to win 5-0, and break into the top 16 for their competition. One of our Premier Advanced teams (Nathaniel Siaosi, Jarren Iuvale, Gabriel Toreja, Liufau Kaloni/Vaughan Loli, Bayley Cummings, Vaega Ekeroma and Exzodia Vagaia) ranked at 3rd place, are currently set to compete in the quarter finals for their division, having been placed in the top eight of their entire competition.
This was made possible with the support of staff members Rosanna Kuresa, Heston Stowers and Jessie Phillips who have been instrumental in facilitating, training and supporting all 9 debate teams this year. It has been an honour watching these students thrive in debating over the past few years. The Lasallian value of brotherhood has witnessed these students grow into Lasallian men of faith, service and community, through their God-given talents in debating. Not despite being Pasefika students from South Auckland… but because of it.