"... Brother Martin is a quiet, gentleman with a wealth of knowledge to pass on to others. He is always reminding staff of the Lasallian charism and the importance of touching the hearts of the students..."
REFLECTIONS FROM STAFF
A reflection from Ms Angela Porro
Our community has been gifted with a Lasallian brother who has taught us the true meaning of being Lasallian. Brother Martin Blattman began at the college in 1983, where he worked with Principal Brother Kevin Wilding. He then remained on the staff for an extra year with Mr Des Pollard. He lived in Cronulla and would often walk to Caringbah each morning. He was then computerising the office so the walking time enabled him to solve programming problems. Brother Martin then returned to us in 2017. We thank him for his years of service to the college. Whilst he will retire from his official position on our staff this semester, he will be a presence at our major college events and will continue to visit our community.
What does it mean to be Lasallian? This has been a question which has resonated with me since my time of employment at the college. I often ask the students the same question, and recently they reflected on this in Religious Education classes. Most responses were similar and included:
Being a Lasallian means being a bigger brother to younger year groups and helping those who need it.
"Enter to learn, leave to serve" - this means to be educated to go out into the community and the world in order to serve and make a difference.
Be your own 'gentleman.'
To be a Lasallian means that you keep Saint John Baptist de La Salle's mission at heart.
Treat others the way you would like to be treated.
Being a Lasallian means to be the best person one can be and always striving for more in your life.
Bring a Lasallian means being like Brother Martin - someone is unselfish, has God in his heart, and lives for others.
All in all, when I reflect about what being Lasallian means, this has been modelled to me by Brother Martin Blattman. I was fortunate to have Brother Martin's support when I began as Leader of Religious Education at the college in 2019. I am grateful for his gentle heart, and his encouragement in all I did. His presence in the classroom was most valued by the students, and he always listened to those young men who were struggling with issues in their own lives.
Brother Martin always reminded the staff of our main role - to touch the hearts of the students in our care, as it was only then that lasting relationships can be formed. He often spoke to me of his experiences teaching in the indigenous community of Balgo, and I was humbled by the impact he had on the many children under his care. Alongside Brother Michael Neville, the two spent thirty years between them at the Luurnpa Catholic school, providing support to the local parish and Indigenous community. At Caringbah, the students themselves will miss his presence, as will the staff.
Brother Martin, we thank you wholeheartedly for all you have done for the community here at Caringbah, and we wish you well in the next chapter of your life. May God bless you always.
A reflection from Mrs Veronica Robins
We were delighted when Brother Martin joined us in The Learning Centre in 2017 - a welcome addition to our team. Brother Martin, with his extensive experience, worked alongside our students and gave them his undivided attention.
The boys appreciated his quietly spoken manner and his listening ear - his gentle nature was apparent in his presence when he entered a room. He often reflected that although teaching methods had changed considerably over his lifetime, he believed that truly listening to a student was a great conduit for a meaningful connection.
On a personal note, Brother Martin always had interesting travel tales to share with us. He shared stories of his six months sabbatical in Europe visiting many of the well-known pilgrimage destinations. As the brothers have communities all over Europe he was able to avail himself of their hospitality and visit England, Wales, Rome, Barcelona, Seville, Granada, Córdoba and Madrid. I know this experience was enriching for him and a well-earnt retreat after his lifetime of service as a brother.
Br Martin is an inspiration to us all with his unselfish service to others. On more than one occasion he expressed that the contact with our staff and students gave him life.
As we strive to inspire our students to be their own "gentleman", we are sad to say goodbye to Br Martin who is the epitome of a gentleman. Our team will be incomplete without your presence and you will be greatly missed.
We will fondly remember the part of your life and soul you shared with us. What an extraordinary blessing you have been to our De La Salle community.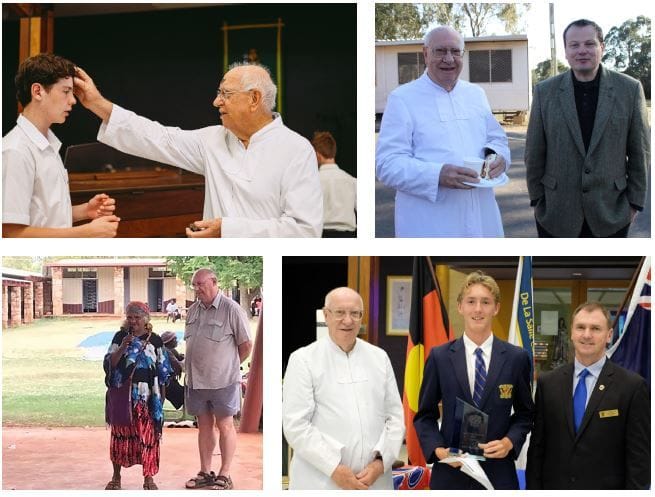 A reflection from Mrs Pina Budd
In my time at the college, Brother Martin Blattman joined us in January 2017. We were fortunate enough to have a Brother to come to De La Salle and he brought with him a wealth of information. He supported many students with their learning. Brother Martin provided teachers with support and was a wonderful mentor in the staffroom. He is such a genuine man and always had wonderful stories of his experiences from all around the world. We were always intrigued whenever he shared these with us. I wish him well in his new adventures in the future.
A reflection from Mr Gerard McMullen
I first met Brother Martin in 1986. Shortly afterwards he volunteered to be the laboratory assistant as we did not have one at the time. His wealth of knowledge in all areas of science was of great assistance and his advice was a God sent for the Science Department over a number of years.
He left to do valued work at Balgo Hills in Western Australia. He returned to De La Salle many years later to assist with Religion classes and with this bringing a presence of the De La Salle Brothers back to the college.
I have always found Brother Martin to be a quiet gentleman with a wealth of knowledge to pass on to others. He is always reminding the staff of the Lasallian charism and the importance of touching the hearts of the students, one thing Brother Martin has done all his life. It has been a great privilege to work with Brother Martin over the years. Our college will miss his zeal for promoting Lasallian values. I wish him well in his retirement and hope he will drop in to see us when he can.
A reflection from College Captain, Zack Pontey, and College Vice-Captain, Adam McMahon
On behalf of the student body, we thank you for your service to De La Salle. Brother Martin has helped many students here in finding the path of a true Lasallian as they begin high school. He always modelled the Lasallian qualities of service and love. We thank him for his contribution to the school - he always attended masses, assemblies and classes to assist us. We will miss him sitting in the front pew.
We hope that this Bible passage inspires you, Brother Martin, as you enter the next chapter of your life:
"May the God of hope fill you with all joy and peace as you trust in him, so that you may overflow with hope by the power of the Holy Spirit" (Romans 15:13)