The following is an article from Principal Martin Chamberlain from Francis Douglas Memorial College in New Zealand.
This is an interesting account of his recent experience in Pakistan where he had the opportunity to visit schools in Faisalabad and see FDMC's twinned school for Founders Day.
---
Saturday school lies ahead but my internal clock has a Friday feel about it. Here in Faisalabad, we've forgotten what cold feels like. It's 1800 and still so warm outside that I can barely touch my skin on the concrete balustrade. Humidity is always low so the heat is quite tolerable and there is no apparent direct sunlight through the haze. When Claire and I are too hot, so are the locals, and that's reassuring. Our room and some others have air-con and it's welcomed.
As the fives-times-daily prayer from the mosque just over our fence blares out over their enormous speakers, Claire has just returned to our room looking as if she's been for a swim. Within the half-hectare school compound, which we must never leave unless accompanied by a Brother, she is grateful for the treadmill in the basement. They punish each other daily until seven non-existent kilometres have been covered. Unlike me, she has adopted the national dress and finds it very comfortable. Conversely, I've embraced the food which she finds too spicy. She is pictured here with Brother Shahzad who is principal of the school in the background which is across the road outside our compound.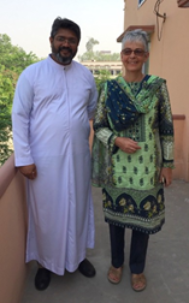 We have now visited all five Faisalabad schools. They range from the wealthy Lasalle High School & College as in the photo, where the $NZ 800 annual fee the 2,000 students pay, runs that school and the other four, which are for the poor. Teachers there are paid up to a maximum $NZ4,740 per year. In the other schools, $1,800 PA is not uncommon. All schools have some Moslem teachers. Moslem students are the majority in the prosperous school, whereas Catholics/Christians are in the others.
We are living in community with eight Brothers and there are 15 trainees for the brotherhood in a separate building onsite. As with anywhere else, I have visited them, the Brothers' hospitality and cheerfulness know no bounds. I am proudly making it to the 530am morning prayers, followed by Mass, to begin the day. Our innards have been well behaved as we dabble in alternatives to the Western fare they supply the elderly Australian and Irish Brother and us with. They are both delightful and assist greatly with training in English for the trainee Brothers. All tuition in the schools is now in English although the poorer schools have to proceed with a blend. In regard to English, Brother Shahzad would be very keen for a specialist English teacher to come and live in the compound (for safety reasons there is no other option and the Brothers are wonderful hosts to men or women alike) for four to eight weeks and train the schools' teachers in the teaching of the subject and teaching techniques in general. We need to explore that maybe round term 4.
We have never felt anything but secure, even when visiting the bazaars with Brothers' accompaniment. Goods are about 20 percent of the cost at home. One is reminded of the threat that exists however when crossing the narrow road between the two schools. Three large men in blue overalls carry heavy weapons which they have shown me have a magazine of cartridges containing shot pellets about 3cm in diameter. They take their work seriously. I feel like following up their, "God bless you", greeting with, "But I blast you."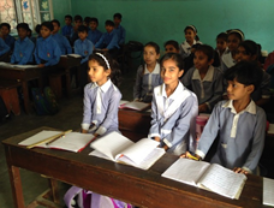 Cursed be the examination system! In both of our countries, the joy of learning is secondary to the assessment systems and too much energy goes into measurement. I once heard it quoted, "You don't fatten your pig by weighing it." At home, it's credit collecting and here it's rote. The students spend time learning work they have copied from the chalkboard (it's been great to use chalk again) and regurgitate it in exams. Teachers who would deviate from this would be punished by the exam system that recognises only material learned by heart without the necessity of comprehension. My work in training staff once their holidays begin on 17 May, will be to gently propose some brainstorming and student-to-student discussion prior to content delivery. Hopefully, it will make learning life better for both.
The welcomes we have received at all schools have been humbling. We have been given enough large bunches of roses to stage a state funeral in NZ. Several schools have wheeled out their brass bands, students have presented cards and impeccably rote learned speeches of welcome featuring words such as venerable, esteemed, gracious, privileged, humbled and of course, God bless you the ubiquitous greeting from everyone. We are usually referred to as Mr Martin Joseph and Mrs Claire Martin.
All schools, prosperous or not, most have all classroom surfaces made of concrete. Rooms are rather dark. Six or eight very noisy fans make hearing a challenge and students sit mostly on benches for three. Every school has an attractive uniform and the students are proud of it and their school. Except for the kindy/nursery classes which can have 40, numbers are similar to NZ. The students are all gorgeous an attractive race of people.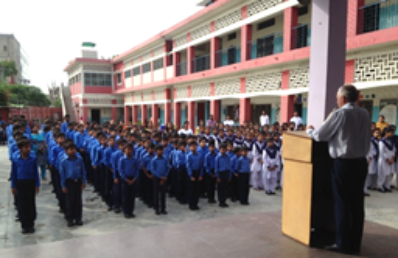 The teachers are proud of their work and many are former students of their employing school. The dress of the female teachers is always spectacular. Whether it's because of our novelty value, we have to be careful where we initiate hand-shaking while visiting. A crowd five-deep can form in a very short time and make us feel like celebrities.
Next Tuesday we will once again be the guests at Malkhan Wala (our twinned school) for Founder's Day and that evening at a function where all teachers from the five schools will gather for a formal occasion. We will then travel to Kushpur which is the Catholic mother lode village, from which many of the Brothers come, and then on to Multan to visit the remainder of the schools. Because of Ramadan, breakup will be early on 17 May and school won't resume again till 15 August. This seems odd because their academic year starts in March.
We hope things go well back home. New Zealand has a wonderful quality of life but people are special wherever you go and more so for Lasallians.
Until the next scribblings, kindest regards from Martin (Joseph) and Claire (Martin)