Posted by Ria Greene on 4 August 2016
"Blessed are the merciful, for they will receive mercy" (Mt 5:7)
In this Year of Mercy, St Bede's College Mentone offered World Youth Day The Local Experience.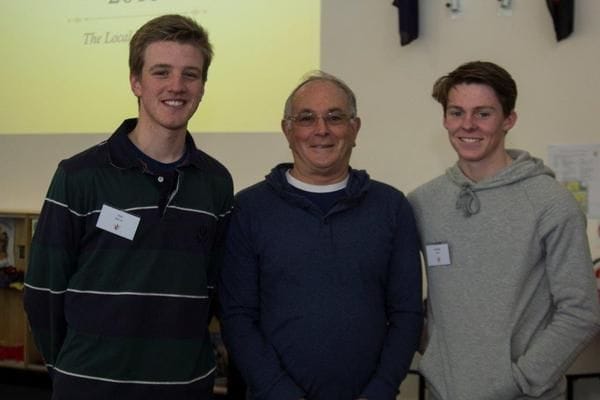 Young adults from six Melbourne schools joined in the celebrations on 30 July through a highly interactive and engaging 12 hour retreat style program.
57 young men and women from St Bede's College, and beyond, gathered to reflect on what it means to be a young believer in the contemporary world, and how each of us is called to be the face of mercy.
Pilgrims gathered from Kilbreda College Mentone, De La Salle College Malvern, St John's Regional College Dandenong, Simmonds Catholic College West Melbourne, Sion College Warragul, plus many post-school young adults.
The day was facilitated by two Lasallian Youth Ministers, Caleb Bainbridge (St Bede's College) and Stephen Beirouti (LaSalle, Middle Swan, WA).
Two keynote speakers where invited to animate the "Year of Mercy"; Laura John (past College Captain of Kilbreda College and UN Youth Rep 2014) and Mark Clarke, from the Office of Justice and Peace.
They both provided thought provoking insights into the need for mercy in today's world and challenged the 'pilgrims' to assess how they can make a positive difference in the world.
In addition, the 'pilgrims' had a choice of workshops to participate in Christian mediation with St Bede's College Principal Br Garry Coyte, The Year of Mercy in mosaic art with Viv and Laura, or "Human Trafficking" with Sister Stancea Vichie from ACRATH (Australian Catholic Religious Against the Trafficking of Humans).
The day included a Camino walk along Mentone beach in blustery conditions.
In the late afternoon, the Chapel became a warm sanctuary to reflect on the day with a variety of prayer experiences including a large labyrinth prayer mat and the opportunity to celebrate the Sacrament of Reconciliation with the Parish Priest of St Brendan's, Flemington and Holy Rosary, Fr Max Vodola.
Following the Mass, the pilgrims enjoyed an evening of Polish food and entertainment; traditional Polish dancers taught the pilgrims some basic Polish steps and moves.
It was a fitting and energetic finish to a wonderful and enriching day.
One of the pilgrims, 17 year old Brooklyn Ludowyk said it was a really rewarding event.
"I learnt so much about some of the current issues in our world and how to apply mercy in these situations, but more importantly, by attending WYD at St Bede's I was able to decipher a whole new meaning for the word "mercy" itself", Brooklyn said.
Another pilgrim, 18 year old Brad Shea agreed, it was a really memorable experience.
"We all came together to celebrate our faith and being young! We had an awesome time meeting new friends and getting inspired by brilliant speakers, and the workshops, games, Camino walk and prayer time gave us all the chance to explore the theme of mercy with other likeminded young people and decide what it means to us".
"WYD was a great experience, and a super fun day!", Brad added.
In his homily, at the final World Youth Day Mass in Krakow, Pope Francis challenged young people to not be 'couch potatoes'!
Without doubt he would have been pleased to see the level of engagement and activity at St Bede's College by both the young adults and the 'young at heart'; that is the many staff members who volunteered to make 'St Bede's College World Youth Day Local Experience' a reality.