Formation Programs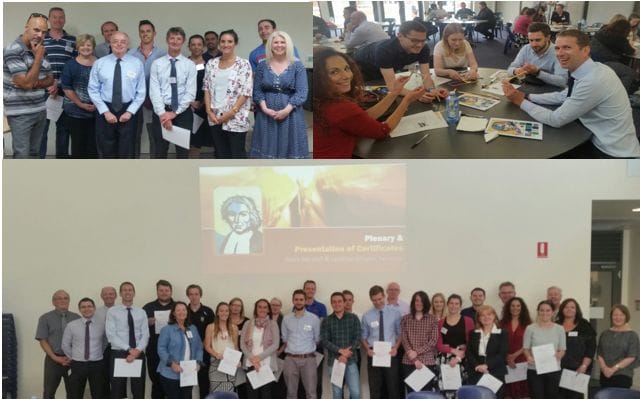 Our formation programs
A heritage that lives on in Lasallians today. Lasallian formation is an encounter between a 330-year old heritage of educating young people, especially the most vulnerable and our work as educators today.
Our programs develop an awareness that Lasallian educators (all those engaged in Lasallian workplaces) are in the 21st century forefront of that evolving heritage. We are also part of a global mission to over one million young people.
While our spirituality and values are fundamentally Christian and Catholic, many of our educators, students and clients belong to other faith traditions.
Our aim is to encourage a constructive conversation between past and present
The conversation involves, first, the story of St John Baptist De La Salle (1651-1719), a French Catholic priest and his gradual commitment to developing an educational community of lay men who worked successfully with vulnerable children. Secondly, we scan the growth of that community through the ups and downs of three centuries. From our own perspective, we then consider the values, spirituality and practices that have emerged from that heritage and allow ourselves to be encouraged and challenged as we respond to the educational needs of young people today. We take heart from the fact that De La Salle urged his first Brothers: 'Think highly of your work'.
Professional development
We see Lasallian formation as an integral part of professional development. As far as possible, our programs are aligned with the accreditation requirements of Catholic Education Offices and Australian Professional Standards for Teachers.
For more information on Lasallian formation programs, please contact Br John Cantwell in the Provincial Office on (02) 97956453
Exciting Career Development Opportunities the Lasallian Education Network
In 2017 the developing partnership between Lasallian Mission Services and BBI-The Australian Institute of Theological Education will provide for some exciting new possibilities for Lasallian educators.
BBI-The Australian Institute of Theological Education has recently been granted Higher Education Provider status by TEQSA, the Australian government's independent national regulator of the higher education sector. BBI's newly developed courses have been accredited for the maximum seven years.
There are two areas in which the partnership with BBI is good news for Lasallian educators: the possibility of including Lasallian studies in higher education and the recognition of Lasallian development programs.
"We are very much looking forward to working alongside BBI in partnership which will benefit Lasallian working in so many different contexts across our District." Br John Cantwell fsc, Director of Formation, Lasallian Mission Services.