DE LA SALLE SECONDARY SCHOOL BOMANA
PORT MORESBY, PAPUA NEW GUINEA
Living in a Lasallian Brothers Community
**This placement is open to males only
About the Placement
De La Salle Secondary School has 1200 male students and is situated on the outskirts of Port Moresby. It was established as a boys' boarding school by the Brothers in 1964, and is one of the oldest schools in the country. It then transferred to a boys' day school in 2009 and has been managed by lay principals for the last 17 years. In 2018, Br Antony Swamy was appointed Principal, and Br Thomas Yapo is the new Deputy Principal marking the De La Salle Brothers formal return to the administration of this school.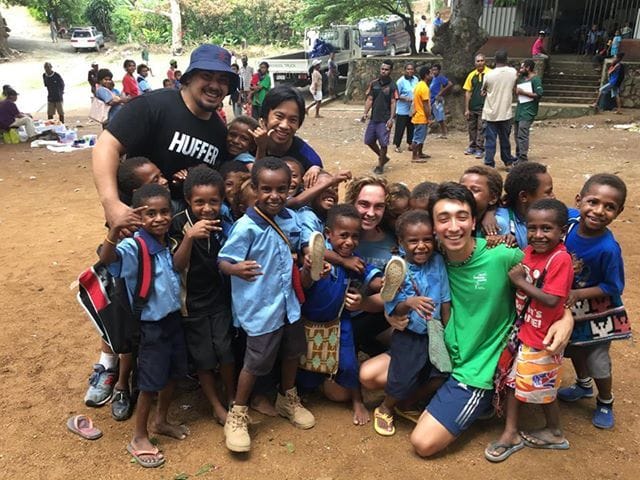 In 2013, free education was introduced in PNG which has substantially increased enrolments. The change of education policy was welcomed however, schools have not received any additional Government funding or support to expand or improve facilities. This has led to overcrowding in many classrooms (up to 60 students per class). A number of students are aged in their early 20's due to a high number of school dropouts at an earlier age. The free education policy has provided a second opportunity for these young men to commence or complete their high school education.
Most of the students live in underprivileged, settlement communities in the nearby area, which have no access to basic amenities such as electricity and running water. Many come from single parent families and difficult circumstances. The school is proud to announce that there is an increasing number of graduates who are now continuing further studies at university and college.
LVs will be welcomed in the Brothers' community at Bomana where responsibilities will include helping with usual home chores in the community house. Port Moresby is a tropical climate, with warm weather all year-round.
Responsibilities of an LV role includes:
Support individual students in classes with literacy and numeracy.
Prepare and participate in class/school-wide liturgies, retreats and leadership formation programs
Support the Youth Minister with year level retreats, Lasallian Youth Leader program and Mission Action Day activities.
Assist the students with their homework after school.
Assist in extra-curricular options and planning, e.g. sports programs, art, events.
Assist with student leadership training programs
Challenge: living in a remote location in a compound, low speed internet, being a long way from family and friends, learning to live with others you have never met before, difficult behaviour of some students, living in a different culture, with some early mornings.
Reward: Support students with difficult backgrounds, learn about local culture, experience cultural activities and celebrations, develop relationships with students, explore the beautiful scenery, make a positive impact on the school, developing relationships with students, experience a different demonstration of faith often with p
rayer through singing.
Preferred qualifications: Solid literacy and numeracy skills, knowledge of sports and coaching, retreat experience, First Aid certificate.
To submit your interest apply here: Lasallian Volunteers Applications 2019