Lasallian Youth Gathering 2021

The Lasallian Youth Gathering (LYG 2021) will be a vibrant four-day celebration (7-10 July) of the Young Lasallian family from across Australia, New Zealand, Pakistan, Papua New Guinea, and beyond!
What is the Lasallian Youth Gathering?
We anticipate that LYG will be a richly diverse and joyful experience for youth and young adults. It incorporates dynamic faith experiences, community life, a live band, sports tournament, engaging workshops and inspiring keynote presentation. LYG invites young people into a deep and authentic understanding of what it means to be a Young Lasallian in 2021.
Theme: Walking New Paths
The theme "Walking New Paths" is a rich and timely concept that speaks deeply to our District's recent experiences. Many of those who will gather have much to share about their new paths over the last 12 months.
This theme has its roots in the 46th General Chapter of the De La Salle Brothers theme "Building new paths to transform lives".
When: July 7 to July 10
How much will LYG cost:
School-based delegates $450 per delegate + Travel Costs
Alumni delegates: $250 + Accommodation + Travel Costs
Non-residential Day Delegates: $250 per delegate
Where:
Accommodation: Travelodge, 8 Greenfield Parade, Bankstown, NSW, 2200
Who is LYG for?
School-Based Audience: Young Lasallians from year 10-13
Lasallian Alumni: 18- 25 years old
Promotional Material
COVID & Safety Considerations
The safety of all involved is of utmost importance. Our team will comply with all COVID regulations, as well as all safeguarding requirements, to ensure the safety of all the delegates involved.
LYG is a District gathering, and delegates from each of our communities are invited. We acknowledge, however, that the COVID restrictions in place will determine this. LYG 2021 will be facilitated in a hybrid model that will cater to those who are able to gather in-person and those who may wish to join remotely.
WATCH THIS SPACE FOR PROGRAM UPDATES, INCLUDING SPEAKER AND WORKSHOP ANNOUNCEMENTS!

LYG 2021 Timeline for Organising Staff Members and Alumni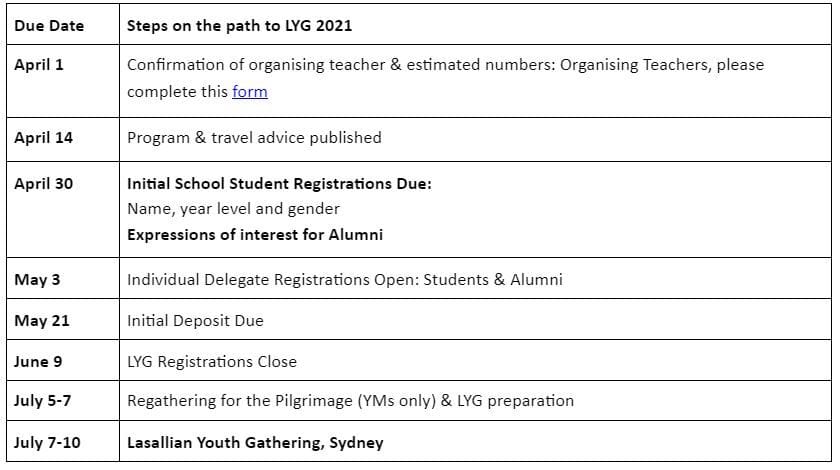 Please don't hesitate to contact Lydia Avia-Aumua lydiaaviaaumua@delasalle.org.au if you have any queries.
LYG 2021 - Walking New Paths
2020 was a lot of different things for different people. For some, it was a tumultuous time between border closures and separation from family members. For others, it was a reality check that no amount of virtual communication would ever make up for the warmth of in-person communication. The theme for LYG 2021, 'Walking New Paths' carries a whole different dimension as we continue to navigate a world in a post-global pandemic.

This is said to remind us all that we are so grateful for this opportunity to meet in person to laugh, learn and break bread with each other. We hope that as we start to roll out more details that you will remember the gift and privilege we have to not only be part of it - but also encounter each other in person. Here is a copy of the Program (which is subject to change) LYG 2021 Delegate Program.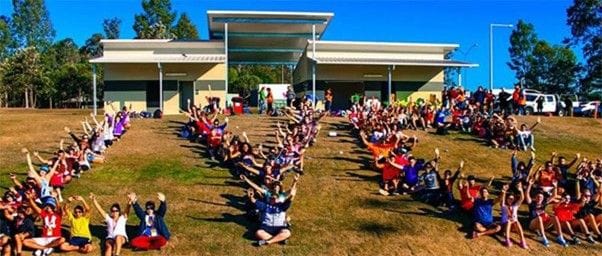 Day Delegates
In the spirit of our theme of 'Walking New Paths', LYG 2021 will introduce the host city's option to attend as 'Day Delegates'. Day delegates will return to their homes at the end of each day. Day Delegates Registration cost is $250 per delegate. This is an exciting new offering and means colleges from the host city can choose either the residential or the day delegate option. We hope that this encourages greater accessibility and participation for more young people to experience LYG.
Please note, this option is not available for Youth Ministers. You are required on-site for assistance in supervision for Residential Delegates and other program duties.
Registration Forms
Phase 1 - For schools who have not completed the Initial School Registration Form, please work with your RECs or organising teacher to get this completed. If your numbers have changed with the introduction of Day Delegates, please fill this out again.
Phase 2 - Student Contact Information Form: Once you have confirmed which students are attending, please complete this form. We will then send updated information to you and these LYG delegates directly.
Phase 3 - Delegate Registration Form: This will be sent directly to delegates upon the completion of the Student Contact Information Form. Each delegate attending must complete this form, including Dream Team members.

General Travel Advice
Arrivals - July 7
To help your schools with their planning, please familiarise yourself with the following information:
Interstate: Please arrange to arrive in Sydney before 12 pm
International: Please book arrangements to arrive in Sydney before 11.30 am
NSW Delegates Staying at the Travelodge: Please arrange to arrive at the Travelodge by 3 pm
Local Sydney Day Delegates: Please arrive at La Salle Bankstown, 530 Chapel Road Bankstown 2200. Please enter via the Brothers house car park by 4 pm
Airport/Central Station to Travelodge Bankstown
Dream Team Responsibilities
Check-In & Registration - July 7
Check in for both venues from 1.30 pm, with Dream Team stationed at both sites.
Check-in & Registration
Residential delegates check-in: will occur at the accommodation at Travelodge Bankstown. This will open from 1.30 pm and close at 4.15 pm. Delegates will be able to leave their baggage in a storage area. You will then walk to Lasalle Bankstown.
Residential Delegates who have not yet checked in at 4.15 pm should meet at the Lasalle College (with their bags).
Day Delegates Check-in: will occur at Lasalle Catholic College for day delegates from 4 pm.
Residential Delegate Night Supervision
All Youth Ministers will be on a rotation schedule of supervision, including night supervision for residential delegates.
Day Delegates: Daily drop-off and pick-up at LYG
It is the responsibility of the organising teacher to decide the travel plans of their delegation. Once selected, the Dream Team, will facilitate.
Our team will have a separate roll-call for both residential and day delegates at the beginning and end of each day.
Daily Pilgrimage between Accommodation and Lasalle Bankstown
As part of the LYG program, there will be a daily walking commute between Lasalle Catholic College, Bankstown & Accommodation Travelodge Bankstown.
This is approximately 2kms with a slight incline at parts, which takes about 30-45 minutes whilst in a larger group. If for any reason any delegate is unable to do this walk, supervised transport will be provided.
Youth Ministers will be responsible for safely guiding students between Lasalle Catholic College and Travelodge Bankstown.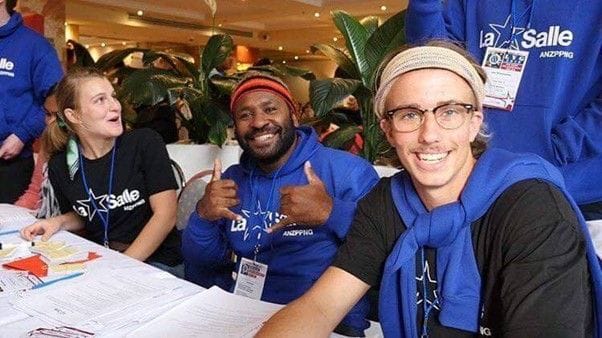 LYG 2021 would not be possible without the generous offer from Lasalle Bankstown for hosting.
Enjoy this welcome from Mick Egan, Principal of Lasalle Bankstown