Lasallian Youth Gathering 2021

The Lasallian Youth Gathering (LYG 2021) will be a vibrant four-day celebration (7-10 July) of the Young Lasallian family from across Australia, New Zealand, Pakistan, Papua New Guinea, and beyond!
What is the Lasallian Youth Gathering?
We anticipate that LYG will be a richly diverse and joyful experience for youth and young adults. It incorporates dynamic faith experiences, community life, a live band, sports tournament, engaging workshops and inspiring keynote presentation. LYG invites young people into a deep and authentic understanding of what it means to be a Young Lasallian in 2021.
Theme: Walking New Paths
The theme "Walking New Paths" is a rich and timely concept that speaks deeply to our District's recent experiences. Many of those who will gather have much to share about their new paths over the last 12 months.
This theme has its roots in the 46th General Chapter of the De La Salle Brothers theme "Building new paths to transform lives".
When: July 7 to July 10
How much will LYG cost:
School-based delegates $450 per delegate + Travel Costs
Alumni delegates: $250 + Accommodation + Travel Costs
Where:
Accommodation: Travelodge, 8 Greenfield Parade, Bankstown, NSW, 2200
Who is LYG for?
School-Based Audience: Young Lasallians from year 10-13
Lasallian Alumni: 18- 25 years old
Promotional Material
COVID & Safety Considerations
The safety of all involved is of utmost importance. Our team will comply with all COVID regulations, as well as all safeguarding requirements, to ensure the safety of all the delegates involved.
LYG is a District gathering, and delegates from each of our communities are invited. We acknowledge, however, that the COVID restrictions in place will determine this. LYG 2021 will be facilitated in a hybrid model that will cater to those who are able to gather in-person and those who may wish to join remotely.
WATCH THIS SPACE FOR PROGRAM UPDATES, INCLUDING SPEAKER AND WORKSHOP ANNOUNCEMENTS!

LYG 2021 Timeline for Organising Staff Members and Alumni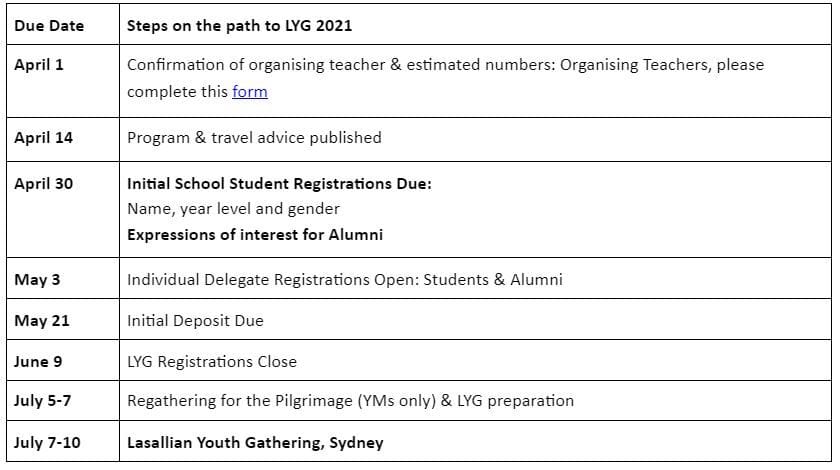 Please don't hesitate to contact Lydia Avia-Aumua lydiaaviaaumua@delasalle.org.au if you have any queries.